In The Last Train to Key West by Chanel Cleeton, Labor Day in the Florida Keys is typically a busy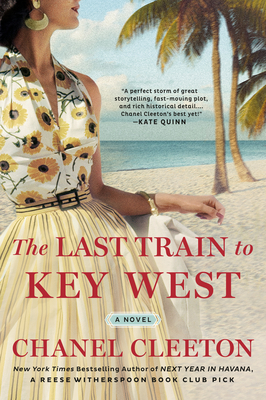 time for tourists. Even during the Great Depression. But the holiday weekend in 1935 became a tragic part of history when a powerful category 5 hurricane headed toward the Keys, unbeknownst to the locals or railroad travelers. Included among them were three women already struggling in their own personal lives. Elizabeth Preston traveled down on the rails from New York in search of a way to better her life–which was once filled with riches and friends galore. Likewise, Mirta Perez made her way from Cuba with her new husband, hoping to regain some of the security she and her family lost after the Revolution in 1933.
'It's strange how quickly everything can change. How your life can be on one path, and suddenly, you're on a completely different one with little to no warning at all, ill-prepared for the challenges ahead.'
Then there is Helen Berner. Eight months pregnant and stuck in a bad marriage, she dreams that she will someday find her way free of it all. None of the three women realized how their lives would overlap as they each find their own personal strength–and fight to survive a hurricane. The aftermath is something out of a nightmare. But with perseverance and community spirit, Elizabeth, Mirta, Helen, and the residents of the Keys will do all they can to forge their own new path in the world. And maybe even be better off for the difficult lessons learned along the way.
'Homes are destroyed. Lives are lost. The entire island has effectively been wiped away.
These people were already struggling. What will they do now?'
The Last Train to Key West was intense and gritty, based on a real event in 1935. I think history buffs and romance fans alike will find this to be heartrending at times, but also hopeful and full of wonderful personal connections.
'It's difficult to appreciate how bad a storm can be if you haven't experienced one for yourself. It's like revolution–on the surface, it seems scary, but only those who have lived through it fully comprehend its true horrors.'
Trigger warning: View Spoiler »Domestic abuse, murder, detailed descriptions of people hurt/dying in hurricane aftermath. « Hide Spoiler
This was the first novel I've read by Chanel Cleeton and I was impressed with her overall writing voice–how smooth the story flowed–as well as the intricate plot she created. There were several characters to "meet" so the first few chapters were a learning curve. But once I got them straight it turned into a highly consuming storyline. It's clear from the book blurb that our three heroines: Mirta, Helen, and Elizabeth had their lives intersect down in the Florida Keys while one of the largest hurricanes to ever hit the States beared down on them. Because of those threads woven together, this read almost like a mystery in places, trying to figure out those connections between the women and how it would affect their lives going forward.
It was interesting how Cleeton gave us POVs from three women who were at different points in their lives but who were all looking for–or on the cusp of–big changes. Without giving spoilers, we had Helen who was in an unhappy marriage and was eight months pregnant. Elizabeth was in a new relationship that she wasn't sure she wanted to continue. And Mirta was newly married, on her honeymoon, but it was an arranged marriage so her husband was basically a stranger. Watching how all three navigated not only the challenges in their lives but the how the storm affected them as well was quite incredible.
The storm itself was almost another character in the story. I've read about the category 5 hurricane before, but Cleeton added in more details, along with how there was a lack of information so locals couldn't prepare for it. That included the WWI vets in camps down in the Keys. Many of them either lost their lives or ended up helping in the aftermath, which was sobering and poignant. Being set in the Great Depression, it was tough to see how people had to cope with very little resources and money. And how the veterans were pushed down into the camps in the first place. But I thought it showed courage and strength when they, along with the remaining locals, aided in the clean up and helped reunite the living with their family and friends.
A gripping tale that showed the best and worst of humanity in a realistic way, The Last Train to Key West was a memorable story that certainly left a mark on this reader's heart.
Book Info:

Publication: Published June 16th 2020 | Berkley |
In 1935 three women are forever changed when one of the most powerful hurricanes in history barrels toward the Florida Keys in New York Times bestselling author Chanel Cleeton's captivating new novel.
Everyone journeys to Key West searching for something. For the tourists traveling on Henry Flagler's legendary Overseas Railroad, Labor Day weekend is an opportunity to forget the economic depression gripping the nation. But one person's paradise can be another's prison, and Key West-native Helen Berner yearns to escape.
The Cuban Revolution of 1933 left Mirta Perez's family in a precarious position. After an arranged wedding in Havana, Mirta arrives in the Keys on her honeymoon. While she can't deny the growing attraction to the stranger she's married, her new husband's illicit business interests may threaten not only her relationship, but her life.
Elizabeth Preston's trip from New York to Key West is a chance to save her once-wealthy family from their troubles as a result of the Wall Street crash. Her quest takes her to the camps occupied by veterans of the Great War and pairs her with an unlikely ally on a treacherous hunt of his own.
Over the course of the holiday weekend, the women's paths cross unexpectedly, and the danger swirling around them is matched only by the terrifying force of the deadly storm threatening the Keys.