Claim Me by J. Kenner: Alright everyone, we have another phenomenal installment in the Stark Trilogy. Heavens to Mergatroid, I friggin love this series. J. Kenner is an author that I'm going to follow, no matter what she does next. Although you may want to lump this is with the Fifty Shades of Grey and Crossfire series, please don't. Those other series have their good and bad points but Claim Me (and the entire Stark Trilogy) deserves to be a class of their own. Let me tell you why…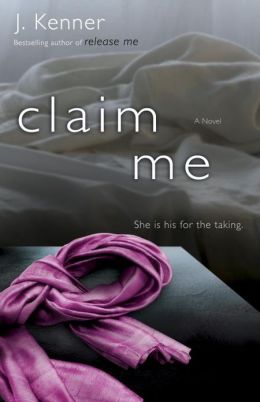 If you haven't read Release Me (Book 1 in the Stark Trilogy), I need to ask you why the heck not?! It's true that you could probably read Claim Me without having read Release Me but I wouldn't recommend it. You'd certainly be able to keep up with the narrative but you'd be missing out on so many of the complexities of the relationship between our hero and heroine. But first, I'd like to give you some general details about THIS book.
Nikki Fairchild, our heroine, is back and is in fine form. She's one tough broad and she rarely lets you forget it. In this installment, I felt like she was trying to figure out her place in Damien's life. I think she's finally accepting the fact that this isn't some temporary fling for Damien and she's trying to see the REAL Damien, not just the Damien that HE wants her to see. I still respect Nikki just as much as I did in the first book. She's still has her cutting compulsion but in my opinion, she's only struggling with the urge to do it. I still can't quite wrap my brain around how inflicting pain on yourself would help you deal with an unwanted emotion or an unpleasant situation but that's not the issue here. The issue is that Nikki is great and beating back this compulsion is only ONE of the reasons that she's great. She also has such a depth of emotion and compassion for Damien – for who he is now AND for the child he used to be.
Damien is still wonderful, amazing, dashing, enigmatic… I could go on! He just really pushes my buttons – in a good way! LOL! And just as I suspected at the end of Book 1, we DO find out a lot more about Damien in Book 2. We get more on his childhood, his relationship with his dad and his coach and even on some of the…er… problems that Damien is dealing with currently. But more importantly, we get to know him better, not just the garbage in his past but who he is, really. He has this impenetrable shell around him but you get glimpses of a sweet, caring, dare I say playful man that he seems to want to be with Nikki. But I think I understand where Damien is coming from. When you're rich and famous and when you've been that way for such a long time, you have to build up this thick skin and this sort of deflector shield so that when people who you think are friends betray you, it doesn't shatter your world. I could be way off here and there could be some major skeletons in Damien's closet but I don't think so. I really think he's just so used to protecting himself that he has a hard time letting his guard down.
So much happens in Claim Me that even if I wanted to retell the story right here, it would take pages and pages. Some of the events that I really liked were when the paparazzi made another huge splash into Nikki's life. I think Nikki really gets a taste of what day-to-day might be like with Damien when the paparazzi show up at the most inconvenient times! Nikki goes through career troubles and it's tough for her but it isn't her fault. I love how she just bounces back after a setback. Well, I guess "bounces back" isn't the right way to say it. But she keeps plugging away and doesn't let much get her down for very long. I wish I could be more like that! But because I don't want you to think that this is the most perfect-est book ever written, I have to tell you one thing that I didn't love about it. It's this whole "I'm going to sacrifice my happiness so that you can be happy" baloney that I feel like I'm seeing more and more in novels. First of all, if we all start sacrificing our own happiness for someone else's, who ends up happy? NO ONE! Second, when you're in a relationship, what makes you think that you know best? I mean, best for someone other than yourself? I know, I'm being vague but I don't want to give so much away! Just trust me. Read this book and you'll know what I mean.
Overall, I loved this book. I can't wait for the next one to come out – it's supposed to be June 30, 2013. I truly believe that the Stark Trilogy (at least the first two books in the trilogy) should be the touchstone for the erotic romance genre. They're THAT good. I seriously hope that anyone reading this review has decided to give these books a try. I highly recommend Claim Me (as long as you read Release Me first). If I could give it 8 hearts, I would!
Book Info
Publisher: Bantam (April 23, 2013)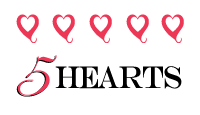 Buy Links: A | BN |
For Damien, our obsession is a game. For me, it is fiercely, blindingly, real.
 
Damien Stark's need is palpable—his need for pleasure, his need for control, his need for me. Beautiful and brilliant yet tortured at his core, he is in every way my match.
I have agreed to be his alone, and now I want him to be fully mine. I want us to possess each other beyond the sweetest edge of our ecstasy, into the deepest desires of our souls. To let the fire that burns between us consume us both.
But there are dark places within Damien that not even our wildest passion can touch. I yearn to know his secrets, yearn for him to surrender to me as I have surrendered to him. But our troubled pasts will either bind us close . . . or shatter us completely.