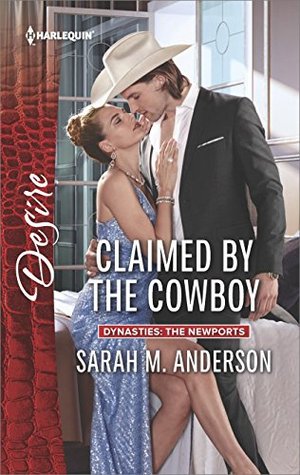 Claimed by the Cowboy by Sarah M. Anderson is the third book in the Dynasties: The Newports series, written by different authors but all centered on the Newport and Winchester families, and their friends. In this story, old high school friends Lucinda and Josh meet up again. Lucinda is an accomplished doctor specializing in cancer care, and her prestigious elderly patient, Sutton Winchester, is the source of a family feud with the recent revelation of Carson Newport being his biological son (to the dismay of his three daughters now contending with their new half brother and what will happen to the Winchester fortune). Lucinda is from Cedar Rapids Iowa, but left town shortly after high school, and a falling out with her friend Josh. They had been linked by their friend Gary, whom Lucinda had been dating, and who died early of cancer. His death is what spurred Lucinda to seek a career in medicine. At his graveside Lucinda had looked for physical comfort from Josh but had been rebuffed by the grieving teen, a wedge driven into their relationship and no subsequent contact for seventeen years. But as it happens Josh is a friend of the Newport brothers, and when he comes to Chicago to see them and meets Lucinda in turn, it's a chance to put things right between them. During their time apart Josh had gone to college, married a sweet woman who had died unexpectedly of a brain aneurysm and fled Chicago for the comfort of home, taking his place as heir to a cattle operation and fortune. Being back in Chicago is difficult for him, though meeting Lucinda again is an unexpected treat. The attraction they feel as adults soon takes over. But Josh won't be making a move to Chicago anytime soon and Lucinda's work at the hospital means everything to her. Can they find a compromise to get their happy ending?
Even if you haven't read any of the other stories in this series, it's easy to pick up this one as each is designed to be a standalone story (though there is an overall story arc to the series). The introduction to the main and secondary characters is well done here, getting readers up to date if they've missed the others in the series, without overwhelming them with too many details. Interestingly in this story, we get two characters who aren't part of the main families in this series, but are peripheral ones. As a doctor Lucinda comes across as a very dedicated woman, concerned about her patients and their treatment. The Winchester and Newport families are causing her a bit of grief if truth be told, especially when they come up with the plan of having their father brought home for in house treatment, essentially bribing the hospital with a large endowment to give Lucinda no choice but to become his live -in doctor. But even though they are using their wealth in a high handed manner, it comes across as a family willing to do anything to ensure the best care. Lucinda is willing to agree to their requests so long as her other patients' care isn't compromised in the bargain. She just never expected to see her old friend Josh again.
Before leaving Chicago after the death of his wife and going back to his roots and his family's highly successful dairy farm, Josh had been a corporate lawyer. It's under this guise that the Newport brothers have asked him to return to Chicago, wanting legal advice on what Carson should go after as his part of Sutton Winchester's inheritance, being newly announced as his illegitimate son. He never thought he'd see Chicago again – and certainly not his high school friend Lucinda, known to him as Lucy. They are both all grown up now, and though they may have parted in a bitter way, seeing each other again does bring up the good memories with the bad. Though they might have been attracted to each other as teenagers, it stayed buried as Lucinda was dating Gary and Gary and Josh were best friends. After Gary's funeral, both grieving, they could have turned to each other but didn't and the rift between them became seemingly insurmountable. But together in the same place again, Josh wants to make up for his mistake. Lucinda can admit that outside of her work she is lonely and soon Josh and Lucinda are having a steamy affair, even as neither wants to look at what that could mean for the future. With Josh's life in Iowa and Lucinda's in Chicago, it doesn't seem like they can find a way to make things work for them. But in the end, we do get our happy ending for this couple who deserve to have that second chance at happiness. Most of the story takes place in Chicago, with a few scenes in Iowa so the 'cowboy' part of the story is low, though it is Josh's current and future career. Overall I found this to be a lovely second chance romance, with some sensual love scenes and an entertaining story. I look forward to reading more in this series!
Book Info:

 Sep 1 2016 | Harlequin | Dynasties: The Newports #3
The reunion that pits city versus country…and turns old friends to lovers.
Josh Calhoun escaped the rat race to run his family's farming operation. But when he returns to Chicago to mediate an inheritance dispute, he's confronted with the past: Dr. Lucinda Wilde. As his best friend's old girlfriend, she's always been off-limits. But his best friend is gone, and now the unavoidable attraction between them makes Josh think it is time to stake his claim…
Will being with the rugged cowboy feel like a betrayal of her sweetheart's memory, or will his touch be this city girl's long-awaited reawakening?