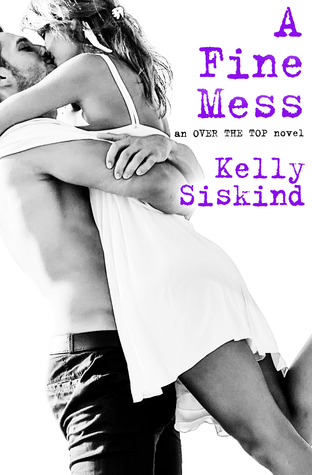 A Fine Mess by Kelly Siskind: Lily and Sawyer have wanted each other for nine months, but Lily's been stuck in an eleven year relationship that's dying and Sawyer's been playing up the ladies' man out of frustration. But when Lily breaks up with her boyfriend and goes to Sawyer, he can't handle the idea of a relationship no matter how much he loves her.
With his twisted family where no one gets a relationship right, Sawyer doesn't believe he'll be able to treat Lily right. But Lily needs Sawyer's strength and sweetness. He's the guy for her, making her feel confident and loved. Plus, when she's with him, she doesn't feel the need to compulsively shop or hoard.
Both need to find the strength to face their fears. Sawyer to open himself up to love, and Lily to let go.
"What are you doing?"
He stops dancing. "Making things less weird."
"Less? What about you channeling Paula Abdul is less weird?"
"Did you laugh?"
A Fine Mess mostly bothered me. As much as I understood and could be sympathetic towards their issues, they weren't a hero or heroine I was particularly interested in. Both their problems and general personalities didn't hold my attention.
Sawyer just felt like a boy most of the time. Weak, constantly horny in a very unattractive way, and just immature. And Lily was kind of pathetic. I like that she did grow by the end, she grew some strength, but all throughout she was unable to do anything by herself. Hints of a backbone would appear, such as dealing with her hoarding, but overall I just didn't respect her.
And I didn't get much of a feel for their relationship. It was built in the previous nine months. During the story, I mostly heard about how well they got along, but what I saw was Sawyer going back and forth and Lily trying to handle her hoarding.

Book Info:

 August 2, 2016 | Forever Yours | Over the Top #2
Some guys should come with a warning label . . .
Sawyer West is Mr. One-Night Stand. He doesn't do relationships or promises or feelings. He's never cared enough to get involved. Until Lily Roberts. She's sweet and shy and sexy as sin, and resisting her is testing his self-control. She believes Sawyer can be a better man, and for the first time in his life, he wants to be. But change isn't easy, and Sawyer would do anything to protect Lily from his past self. Even break his own heart . . .