Claiming His Secret Royal Heir by Nina Milne: When all you want to do is live in the present and make sure it's VERY different from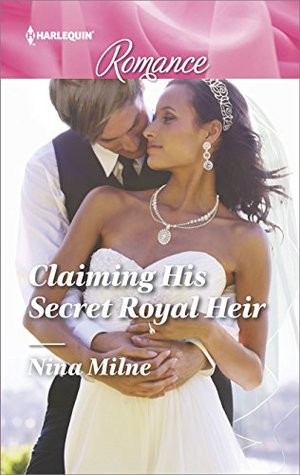 the past you can't always see that you might be fulfilling your own self prophesy.
Sunita had a wonderful mother growing up. It might not have been the most conventional upbringing, but she knew beyond a shadow of a doubt that her mother loved her. However she knew how fleeting and how shaky love could be. After all how many others had said they loved when really it was about control. She was determined to be different to be true to herself.
Frederick Petrelli had finally found his passion something to help transform himself and he wanted to celebrate, at least that was how the evening started. Everything changed that night though and somehow he was determined that he was going to make up for that night and his plans they would be forfeited. They were after all such a small price.
Can Sunita and Frederick come together after horrible childhoods and figure out how to make things like ruling a country, having a marriage and a child work? Or would they forever be together yet separate?
Ms. Milne has given her readers a very heart warming story about overcoming your past and seeing a new future. The characters are heartwarming and moving, while being incredibly over the moon with modeling and royalty. The over arching story has a great flow and is wonderfully written. The only big problem is the ending and the lack of addressing some of the overall issues. The theory that love, once recognized, does conquer all shines through clearly though. Overall a nice read.

Book Info:

Publication: Published October 1st 2017 | Harlequin Romance |
Crown Prince Frederick of Lycander needs a wife and an heir, and discovering he has a secret son with beautiful supermodel Sunita makes him determined to claim them both!
But Sunita has no desire to live and raise baby Amil as part of Frederick's royal entourage! Until he persuades her it's the best thing for their son. Their engagement reveals that their passion still simmers but, to keep Sunita and Amil by his side, Frederick discovers he must also admit his love…