Claiming the Doctor's Heart by Sean D. Young: Dr. Eric Bradley rushes back to his small hometown of Clover Creek after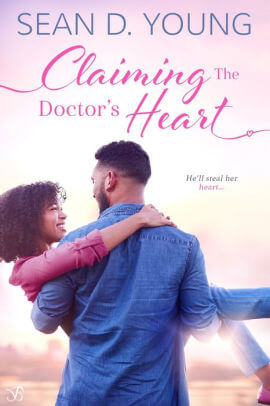 Dr. Daniel Bradley, his father, suffers a massive stroke. Eric thinks he can get things straightened out in a month and return to his research job is Atlanta and the possibility of an even better position. He is not really cut out to be the warm family doctor his father has been for years, but he figures he can do anything for a short time.
Luckily for him, the younger Dr. Bradley has a great receptionist, Holly Ransom. She helps him get used to the rhythm and routine of a doctor's office. Holly was fortunate when the older "Dr. B." gave her a job. She has lived in the shadow of her father being "the town drunk". Her true dream is to get the family bakery shop open and running again.
As Eric and Holly work together to update the medical office, they become closer and attracted to each other. How can a romance survive when they both seem to have different dreams?
I loved Holly! She is not afraid to stand up to Dr. Eric when she know she is right. She also brave to work hard to achieve her dream for the bakery, despite the gossip and snide remarks of others in town.
At first, Dr. Eric appears to have a complex that some doctors seem to have. His bedside manner is certainly not warm like his father's had been. Even though he came rushing home to see about his father and comfort his mother, he seems to be most focused on how everything affects him.
The small Southern town setting shows how even with gossip, there is a goodness of people caring for each other that is lacking in bigger towns. This novel is one of not just a sweet love story, but about hope and redemption. As the year 2020 has shown us, this is often in short supply and as romance readers we need to cling to it and promote it.

Book Info:

Publication: November 30, 2020 | Entangled: Bliss |
Dr. Eric Bradley left small-town Clover Creek, Tennessee to follow his dreams. But when his father is hospitalized after a stroke, Eric must fill in as the town doctor. He's used to working in a medical research lab, not listening to patients go on about their grandkids and dodging questions about where he's been for the last ten years. Small-town life has never been his style.
Without Holly Ransom, the receptionist, to keep things running smoothly, he wouldn't survive. And seeing her every day is an unexpected upside. If only her sweet n' sassy charm were enough to solve all his problems.
Eric has only thirty days to return to Atlanta or he'll lose the opportunity of a lifetime. But how can he leave the woman he's falling in love with and his family legacy behind?