Claiming the Drakos Heir by Jennifer Faye: So much heartbreak can cause a very different perspective. It can also cause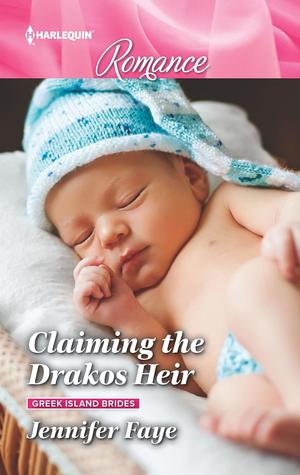 one to realize you only have one life to live.
Poppi Costas never imagined her life to be like this. She never thought she would lose her sister. Never thought she would be pregnant and all but alone. She never realized that as much of a planner as she was she had no idea what her future was going to hold. All she knew was that the little one growing inside of her would always be loved.
Apollo Drakos didn't know what was happening with his life. He woke up from a coma to find the only family he knew was dead and the one he had yet to meet had yet to meet the world. What was he supposed to do? How was he supposed to be family, or even a father figure to his deceased brother's unborn child?
Apollo and Poppi had some pretty big preconceived notions about each other, and they weren't the most pleasant. That being said neither anticipated the evening that would lead to the birth of the child who would heal. However it's not really fair to place your future on one child, is it?
Ms. Faye has gifted her readers with a loving story that will make you cry for love, loss and the future. Her players are as always something magical. She creates this reality where not only can you picture them in your head but you actually can feel the pain and heartache that they go through. Of course neither Poppi nor Apollo can be the brightest so you will want to smack them both at times but this is one of those books that doesn't allow you to disappear into it, this book forces you into another world.

Book Info:

Publication: Published June 4th 2019 | Harlequin Romance | Greek Island Brides #2
The rebel bachelor is back…
To claim her baby!
In this Greek Island Brides story, pregnant surrogate Popi Costas is faced with raising her late sister's child alone, until the baby's wealthy uncle arrives to take charge! Apollo Drakos is distractingly handsome, but Popi won't let that stop her from fighting to keep the baby. Yet as she gets to know the man behind the wild card reputation, Popi's reconsidering welcoming Apollo into her new little family…