Naughty Stranger by Stacey Kennedy is the first book in Dangerous Love series, and if the rest of the series continues this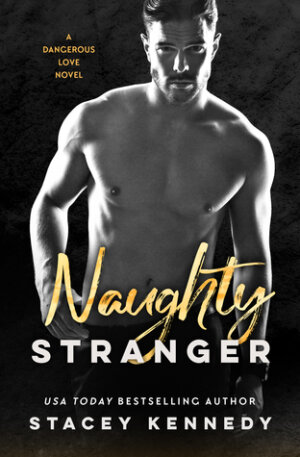 way, it's going to be great.
After losing her husband in a car accident, Peyton Kerr has left her life in Seattle behind to start over in Stoney Creek, Maine, the last place she traveled with her husband and the last place they were truly happy. She buys a lingerie store and a house, determined to start over. Here no one will know her past and she can be whoever she wants to be.
When detective Boone Knight meets Peyton, it's instant attraction. However, after being betrayed by his ex-wife, the last thing Boone wants is a relationship. Neither does Peyton. But the more time they spend with each other, the harder it becomes to fight their attraction. Then one day Peyton walks into her store with Boone's sister, Kinsley, only to find a murdered woman on the floor. A woman who looks suspiciously like Peyton.
In the small town of Stoney Creek, murder doesn't happen and they think it's a robbery gone wrong. But when Peyton is almost in a car accident, it becomes clear she's the target. Now Peyton has to trust Boone with her past, and Boone and his best friends, fellow detectives Asher and Rhett, have to figure out who is the culprit before it's too late.
This book kept my attention from the first page to the last. There's a good blend of romance and suspense, and neither overshadows the other. I was at the edge of my seat, waiting to see what would happen next. Towards the end I had my suspicions as to who the culprit was, but I wasn't sure of the why. It was handled wonderfully and I enjoyed watching it all play out.
I'm looking forward to reading more about Kinsley and Remy. Based on this book I suspect they'll end up with Rhett and Asher, as they all seem to have a past together.
Naughty Stranger is about getting a second chance in life to find love. The characters are all well-written, the storyline is engaging, and the suspense and drama is well-executed. Fans of small-town romantic suspense are in for a real treat with this book.

Book Info:
|

Publication: June 11, 2019 | Forever Yours | Dangerous Love #1
After a sudden tragedy blew her world apart, Peyton Kerr fled her big city career and started over in Stoney Creek, Maine. So far, she's loving small-town life–no one knows about her past, and her easy flirtation with Boone Knight gives her a reason to smile. But then someone is murdered in Peyton's store, and her quiet, anonymous existence is instantly destroyed. To make matters worse, Boone–a police detective–is assigned to the case, and Peyton knows she can't keep him at arm's length any longer. She's resisted the simmering heat between them–but now this gorgeous man is promising to keep her safe–and satisfied…
Boone Knight doesn't want the complications of a relationship. But when he volunteers to protect his town's newest–and sexiest–resident, he finally admits he'd like to explore their sizzling attraction. And after one incredible night, everything changes for Boone. Peyton is sweeter–and braver–than anyone he's ever met, and with her in his arms, everything makes sense. He just needs to convince her to trust him enough to reveal her secrets, or risk losing her to a merciless killer who seems to grow bolder with each passing day.