Entice Me (Austin Singles #2) by Kelly Elliott was a sexy story about two people who have been hurt in the past, have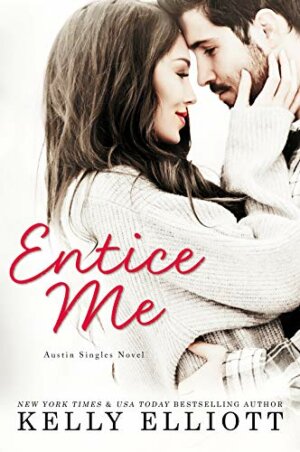 secrets and are afraid to open up to other people. They are their own worst enemies in a way. This is the story of Nash and Kaelynn.
Nash has had his heart broken in the past. He never thought that he would find love again, until Kaelynn walks into his life. She is the woman that makes him want to take a chance on love again, but he knows that she is hiding something and that fear makes it difficult for him to go all in. He knows he should walk away, but he can't turn his back on the chance and the dream of what might be.
Kaelynn did not expect to find love when she came to help her best friend, but then again, she had never met anyone like Nash. She wants to be a part of his world and let him be a part of hers, but she is not the person that he thinks she is. She is afraid that if he finds out who she really is, that he will turn his back on her. She will have to take a leap of faith and trust that what she and Nash have is enough to overcome anything.
I loved these characters. They were real, they where honest, they could be me, or you, or your best friend. They were human and that is what made this book so good. I have not read the first book in this series, but you can bet that I will be going back to do so because now I am a fan. Great story with amazing characters and a wonderful HEA.
Book Info:

Publication: Published March 8th 2019 | Piatkus | Austin Singles #2
Since the moment Kaelynn Dotson walked into my world, I haven't been able to think, eat, or sleep. After having my heart broken by the only woman I've ever loved, Kaelynn has ignited something deep down inside me – a flame so hot I can't ignore it, no matter how hard I try.
I vowed to never open myself up to a woman again, but there's something about Kaelynn that is drawing me to her.
There's just one problem.
She's hiding something from me. Trust is something I need, but when it comes to Kaelynn, all the lines seem to be blurred. I know I should take this as a warning and walk away, but for some reason, it's only enticing me more.
—–
I moved to Austin, Texas, with only one thing on my mind – to help my friend Morgan start a new business. What I wasn't expecting was her brother. Nash Barrett isn't like any other man I've ever met. He's confident, sexy, and not afraid to be himself. It's a refreshing change compared to the men I grew up with back in Utah.
Trying to fight my attraction to him is becoming harder by the day. We come from two different worlds, and even though I'm trying to live in his world, I'm scared the truth will come out.
I'm living a lie.
I'm not the girl from a middle-class family in Utah like Nash thinks. I'm the heiress to a billion-dollar fortune, and that's not what he's looking for. He's had that before, and it left him scarred.
If the truth comes out, I'll lose the only man I've ever fallen in love with . . . I'm not sure I'm willing to give him up.