In Claiming the Highlander's Heart (The Townsends #4) by Lily Maxton, when Georgina Townsend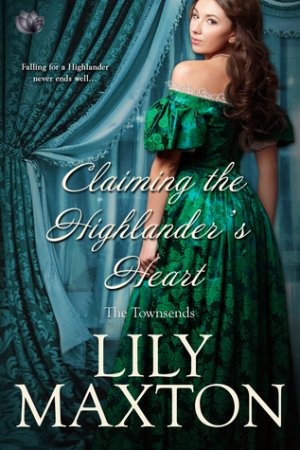 discovers her family home has been robbed and that the thieves have stolen her late mother's music box, Georgina is determined to get it back. Luckily, she's never been much of a lady and her reckless and impulsive attitude is handy for something such as using a secret identity in order to join the group of outlaws that have been robbing people. Yet, the more time she spends with the leader of the outlaw group, the more she finds herself doing the one thing she's sworn to never do which is fall in love. Will Georgina give a relationship between her and Malcolm a chance or is any relationship between them doomed from the start because of the secret she's hiding?
Catriona spoke, unaware that she'd just made him question everything he'd thought he'd know about desire. "That was…"
He had to clear his throat. "Invigorating?"
"I was looking for something closer to painful, but more than painful…excruciating?" She nodded, answering herself. "Excruciating. And exhausting."
"But it was fun, aye?"
What a fun and entertaining Historical romance Ms. Maxton has delivered in this fourth book of her Townsends series where the main characters have emotionally-charged back stories that had me sympathizing with them because how can the heroine possibly give the hero all that he deserves; and the dialogue was enthralling because the heroine will do anything to get back her late mother's music box, even if it means having to prove her worth as an outlaw. Will Georgina be able to prove that she can be just as useful to the group as anyone? However, it was from the moment the hero and heroine come face-to-face for the first time where things get really interesting in this story, as Georgina is smart, sassy and determined to get Malcolm to accept her. How far is she willing to go to get his attention? Will she convince him she can be an asset to the group?
Both the main characters were fantastic and I loved how they challenged each other, especially once they realize things aren't always as they seem. Will Georgina be able to get her late mother's music box back without any trouble? Will Malcolm discover that there's more to life than being an outlaw? Moreover, I really enjoyed the heroine's impulsive and reckless nature, as it serves her well when dealing with Malcolm and the other outlaws of his group. She's also resilient, courageous and I liked the love she has for her family, which is proven by how far she's willing to go to get back something that once belonged to someone she loved. While the hero, he's been through a lot in his life and it's understandable why he does what he does. Robbing the rich gives him a chance to make things right for the poor and helps to lessen the guilt over what happened to his family and the fact that he couldn't save them. Will he ever be able to heal from the losses he's suffered? I also liked the hero's confidence, his charm and his determination to win over the heroine, even once he realizes that things can't continue as they are. Since not all rich people are bad and want to get richer.
"You want me to surrender."
"Aye."
"Do you want me to be weak?"
"Surrender isn't always a weakness, lass." The endearment slipped out before he could stop it.
"It's not…it's not that easy for me."
Overall, Ms. Maxton has delivered a really good read in this book where the chemistry between this couple was powerful; the romance goes into the tiniest bit of detail and shows how right these two are together; and the ending had me cheering for this couple's happy ever after, especially with what happens to Mal and whether the heroine is willing to fight for their chance at happy ever after, especially with what she's hiding. However, it was the epilogue that wrapped this story up nicely, as these two are so happy together. I would recommend Claiming the Highlander's Heart by Lily Maxton, if you enjoy Historical romance, the opposites attract trope, the enemy to lovers trope or books by authors Stacy Reid, Jess Michaels, Christi Caldwell and Maggie Dallen.

Book Info:

Publication: July 9th, 2018 | Entangled Publishing | The Townsends #4
Georgina Townsend has never behaved like a "proper" lady. Her family accuses her of being impulsive, sometimes to the point of recklessness. And they must be right. Because when a band of Highland outlaws steals Georgina's late mother's music box, instead of letting the proper authorities take care of the matter, she disguises herself as a Highland lass and joins the group of outlaws to find the stolen item. She certainly doesn't plan on falling for their charming leader…
Malcolm Stewart has never met a more bold and captivating woman than the mysterious lass who suddenly shows up to join his small band of outlaws. But while she fits in easily, she's more distracting than he expected. When he returned from the war to find his life destroyed, Mal decided to get revenge on the Highland landlords, whom he blames for the death of his family. Falling in love isn't part of that plan—especially not with the sister of one of the very landlords he's sworn to fight against.