Close to the Bone (Widow's Island #1) by Kendra Elliot: Cate Wilde is recuperating at home on the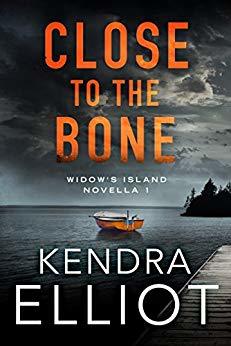 Pacific Northwest island, Widow's Island. She is a FBI special agent on a six week medical leave after having been shot in the line of duty. She shouldn't be getting calls in the middle of the night, especially from her boss. But she did get that middle-of-the-night call because a skeleton has been found on the nearby Ruby's Island. Cate's boss needs to have her handle this case because the local ferry is out of commission, meaning no other FBI agent can easily get to the island and Cate is right there.
Upon arrival on Ruby's Island via Dick Jacobs' water taxi Cate is greeted by three men and a woman. The woman is Cate's best friend from childhood County Deputy Tessa Black. The men turn out to be local sheriff deputies and Dr. Henry Powers. At this time Dr. Powers, who is fairly new to the area, finds out that in addition to being the local medical doctor he is also the local coroner. Henry thinks the bones belong to a teenage girl. But whose bones are these? More than one teenage girl has gone missing in this area over the years. Cate and Henry will be getting to know each other better as they try to put a name to the newly-found skeleton.
Close to the Bone is the first novella in the Widow's Island series by Kendra Elliott and Melinda Leigh. Following the success of their collaboration on the Rogue River series they decided to join forces again for this series. Kendra Elliott is a great suspense writer. Her characters are always solid. Her plots are always well-thought-out. Her pace is always just right. All these story must-haves appear in this novella. This is a super beginning to this series. Next up is Melinda Leigh's novella, A Bone To Pick.
Book Info:

Publication: October 23rd 2018 | Montlake Romance | Widow's Island #1
FBI Special Agent Cate Wilde is back home on a remote Pacific Northwest island when she gets the call: a teenager's skeletal remains have been found on a nearby island.
Together with Tessa Black, a childhood friend turned local deputy, Cate confronts dreary weather and bleak leads to make sense of the death. The complications pile up as Cate is distracted by the coroner on the case—and by nagging memories that draw her twenty years into the past. The remains suggest eerie similarities between this victim, and Cate and Tessa's friend Samantha, who disappeared when she was fourteen.
Cate finds herself up against closemouthed locals, buried town secrets, and even her own heart. As the case unravels, will she be able to cut through the fog and find justice for the missing and the dead