Cold Blooded by Toni Anderson is the 9th book in her Cold Justice series. It's an exciting and suspenseful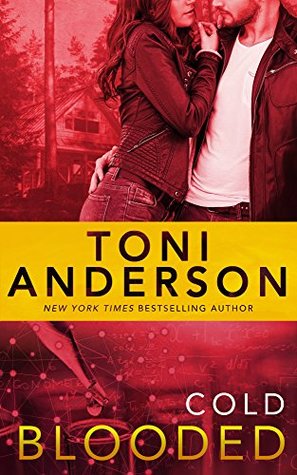 standalone romance, with some twists and turns as a disgraced journalist and an FBI agent cross paths in the search for a murderer.
Journalist Pip West's last assignment turned deadly for an innocent woman and her family. Seeking a new start, she's shown up on the doorstep of her friend Cindy only to discover Cindy's dead body. The police want to blame it on a drug overdose and bad choices, but Pip knows there is more to the story.
Special Agent Hunt Kincaid has been tasked with tracking down the source of weaponized anthrax that has turned up on the black market. When a biotech researcher who is developing an anthrax vaccine turns up dead, he's on the case. Pip's presence is unwelcome, no matter that she's a friend of the deceased. It's possible she's involved in some way, and Hunt aims to keep her close as he works to uncover the truth. Their attraction to each other leads to even more complications. But will they get the chance to explore a relationship before time runs out?
This is one of those stories that will keep you up late at night to find out what happens next! Pip and Hunt are coming at the investigation with different motives. For Pip, grieving her friend's ignominious death, the drug overdose theory doesn't ring true for her friend who never was into that scene. For Hunt, a deadly weapon could be in the wrong hands and Pip's friend could have something to do with it. Hunt can't tell Pip the real reason he's involved in the investigation of Cindy's death but she is able to convince him to look more deeply into the cause and soon finds herself caught up in something even more deadly.
There were some plot points that I was able to guess ahead of time and others that caught me completely off guard. It's a gritty story that doesn't shy away from the reality of death nor the destruction that can occur with a biological weapon like anthrax. The author has clearly researched the topic well and this adds to the authenticity of the plot. The romance between Hunt and Pip doesn't happen right away as there must be a measure of trust between them before they succumb to their attraction. The story culminates in some action packed and harrowing scenes before the happy ending for the couple. If you like suspenseful and page turning reads, you'll want to have Toni Anderson on your shelf.

Book Info:

Publication: June 12, 2018 | Self Published – Toni Anderson | Cold Justice #9
Searching for the truth…
Disgraced investigative journalist Pip West is devastated when she discovers her best friend's body face-down in a tranquil lake. When cops and federal agents determine that her friend overdosed then drowned, Pip knows they're mistaken and intends to prove it.
Special Agent Hunt Kincaid doesn't trust journalists and has no patience for Pip's delusions, especially since her meddling could reveal why the FBI is interested in her friend's last days. The dead scientist worked at the cutting edge of vaccine research and might have a connection to a new, weaponized, vaccine-resistant anthrax strain that just hit the black market.
…just turned deadly.
Pip is thrown off her game by grief and her unexpected attraction to the handsome federal agent. Hunt battles the same unwelcome pull, determined to resist the heat that threatens to consume them both. But the more Pip digs, the closer she gets to both the sexy FBI agent, and to a bioweapons terrorist who's more than capable of cold-bloodedly sacrificing anyone who gets in his way.