Cold & Deadly by Toni Anderson is an exciting romantic suspense novel and the first in her new series Cold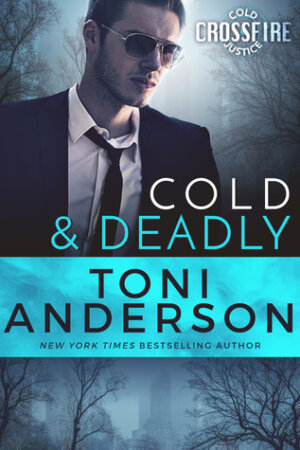 Justice: Crossfire.
When Ava Kanas's FBI mentor retired agent Van Santos dies, she's determined to prove that it wasn't a suicide despite what the evidence appears to show. While attending his funeral a sniper targets a fellow agent, drawing her into another murder case and the notice of FBI Supervisory Special Agent Dominic Sheridan.
Dominic is also struggling with the 'suicide' as explanation of Van's death. Working undercover with Ava to prevent her from damaging her fledgling career, they soon discover that these cases are not in isolation, but appear to be part of a serial killer's plans to decimate the FBI. As they grow closer to the killer, they also get personally involved. Will they catch the perpetrator before their own chance at a happy ending is cut short?
I loved this exciting and suspenseful story! It's one of those novels that will keep you turning the pages late into the night as more clues are revealed. Ava may risk her career to prove that Van's death was no accident but Dominic is willing to take the heat if they are discovered investigating after hours. He finds her hot-headed, impulsive, smart…and very attractive. He's older than her and though he isn't her superior at work, he still believes they shouldn't get involved even though the attraction is mutual. Theirs is a slow burn romance as a result, but when they do connect, the sex scenes are hot and add to their growing emotional connection.
Part of Dominic's job is hostage negotiations and there's a particularly intense scene involving a crisis at a local prison. Add to that the growing realization that there is a serial killer targeting them and figuring out why and there's never a dull moment in this fast paced, action packed story. Dominic and Ava's points of view are interspersed with the occasional POV of the killer to make things extra interesting. Fans of the author's Cold Justice series will recognize some secondary characters making cameo appearances. It's a great start to a new romantic suspense series!
Book Info:

Publication: Feb 12, 2019 | Pub: Toni Anderson | Cold Justice: Crossfire #1
Hostage Negotiators can talk themselves out of anything—except falling in love.
FBI Supervisory Special Agent Dominic Sheridan is an accomplished expert in the Crisis Negotiation Unit. Practiced, professional, used to dealing with high-stake situations under tense conditions, Dominic is a master at manipulating people. Everyone, that is, but the headstrong rookie agent bent on destroying her fledgling career.
As a child, Ava Kanas put her life on the line when the mob executed her father. Now someone has killed her mentor, the man who inspired her to become an FBI agent—and she's the only one who recognizes it was anything but a tragic accident.
When another agent is murdered and Dominic nearly dies, it becomes obvious a serial killer is targeting the FBI. Together Dominic and Ava search for clues in the investigation, all the while fighting a forbidden attraction that will complicate everything, especially when the predator sets their sights on Ava.