Never Tell (Detective D.D. Warren #10) by Lisa Gardner is a gripping thriller which held my attention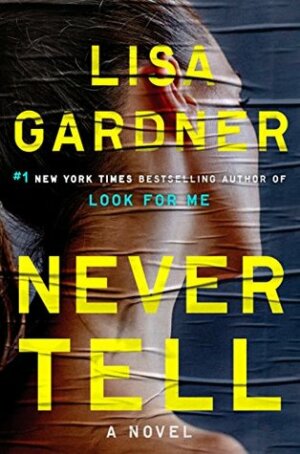 from beginning to end. The plot is quite complex and convoluted and filled with intrigue and suspense.
PD receives a phone call at home informing her of a homicide. She is mostly riding a desk these days but when she hears who has been arrested for the murder she just has to become involved in the investigation. The accused is Evie Carter. At the age of sixteen Evie was cleared of killing her father in their home with a shotgun when the death is ruled accidental. A newby policewoman D.D. Warren was part of that investigation. Now Evie is claiming that she didn't shoot her husband even though when the police break into her house she is found standing at the top of the steps to the second floor with the murder weapon and gunshot residue on her hands. She claims she just shot up her husband's computer.
Meanwhile Flora Dane, D.D.'s CI (Confidential Informant) is waiting outside the Carter residence to throw a curve ball into D.D. Warren's murder investigation. A number of years prior to this time Flora was kidnapped and held in a very brutal, abusive captivity for over a year. She was finally rescued by a FBI team. Her abductor is dead but Flora is not the same carefree woman she once was. She wants to help others affected by crime. Thus why she is now a CI for D.D. Now she tells D.D. that she recognizes the murder victim from the time of her captivity. What will this mean to Boston PD's "open and shut" case?
Lisa Gardner tells her story by dedicating various chapters to the three main characters, D.D. Warren, Flora Dane and Evie Carter. I felt this approach made a lot of sense due to the complexity of the plot. This is the first book I have read by this author and I liked it so much I plan to read more of Lisa Gardner's stories.
Book Info:

Publication: February 19th 2019 | Dutton | Detective D.D. Warren #10
A man is dead, shot three times in his home office. But his computer has been shot twelve times, and when the cops arrive, his pregnant wife is holding the gun.
D.D. Warren arrives on the scene and recognizes the woman–Evie Carter–from a case many years back. Evie's father was killed in a shooting that was ruled an accident. But for D.D., two coincidental murders is too many.
Flora Dane sees the murder of Conrad Carter on the TV news and immediately knows his face. She remembers a night when she was still a victim–a hostage–and her captor knew this man. Overcome with guilt that she never tracked him down, Flora is now determined to learn the truth of Conrad's murder.
But D.D. and Flora are about to discover that in this case the truth is a devilishly elusive thing. As layer by layer they peel away the half-truths and outright lies, they wonder: How many secrets can one family have?