Cold Nose, Warm Heart by Mara Wells is the first book in this author's Fur Haven Dog Park series. I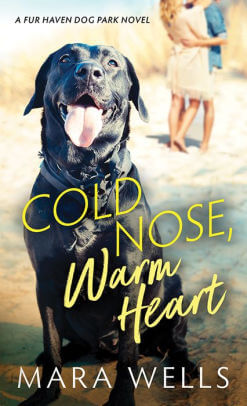 seem to have picked up and read a number of books about dog parks and dog rescues recently and I have to say this is one of the best I have read.
Riley Carson knew her grandmother tended to exagerate at times but this one was a beyond-the-pale giant whopper. Grandma told her that she owned the Dorothy, an Art Deco apartment building where her grandmother lived for years, where Riley grew up staying with her grandmother while her mother was away doing her job on cruise ships. Now here she is apartment manager of the Dorothy after losing her job as assistant manager of the luxury resort, the Donovan, in downtown Miami after the CEO was incarcerated and the Donovan chain of resorts had to be sold off. Now she is being confronted by Caleb Donovan, son of the crooked ex-CEO, who claims he owns the Dorothy and plans to convert the building to condos and turn the lot everyone calls their dog park into a parking garage. Riley didn't believe Caleb and she confronts her grandmother. Seems Grandma was once married to Caleb's grandfather and got possession of the Dorothy in the divorce settlement. Too bad Grandma's husband number three lost the Dorothy to Caleb's Grandpa William in a poker game. How could she be attracted to Caleb when he is planning to take the Dorothy and their dog park away from her and all her friends?
At first Caleb Donovan didn't realize that the Dorothy apartment manager he stopped in to meet, Riley Carson, was a beautiful woman. The pretty lady who frantically raced into the apartment lobby calling her poodle named LouLou caught his eye immediately. They were getting along just fine until he found out she was actually Riley Carson, Apartment Manager and announced he was going to fire her. Oops! She sure wasn't going to go out to dinner with him now.
The storyline runs smoothly and the characters are very likeable. I found myself becoming quite invested in these characters and rooting for a good outcome for all. I especially liked the heroine Riley Carson. I saw her as a very strong, very resourceful woman who also had trust issues. In this case I understand why she didn't trust hero Caleb Donovan throughout much of the story even though she was falling for him. At one point as I was reading I wanted her to kick him to the curb and never look back. But I also really liked Caleb. His grandfather put him in a difficult position. Plus he really is a nice guy. Things got rough between the two and I thoroughly enjoyed their back and forth and how they achieved their HEA. I love books with pets who play a significant role in the story. Riley's rescued poodle LouLou is adorable. This is a super enemies to lovers story!
Book Info:

Publication: January 28th 2020 | Sourcebooks Casablanca | Fur Haven Dog Park #1
A poodle, a black lab and a Chihuahua walk into a dog park…
All Caleb Donovan has to do to redeem his family name is take a rundown Miami Beach apartment building and turn it into luxury condos. Easy, right?
Unfortunately, that would also turn the local dog park into a parking lot and the neighbors aren't having it. Caleb is faced with outright revolt, led by smart, beautiful building manager Riley Carson and her poodle, LouLou.
For Caleb, this project should have been a slam dunk. But even more challenging than the neighborhood resistance is the mutual attraction between him and Riley. It would be so much easier just to stay enemies.
Can Riley and her canine sidekick convince Caleb that what's best for business isn't always best for the heart?