In COLEL (Immortal Matchmakers, Inc. #5) by Mimi Jean Pamfiloff , Colel, the Goddess, or as she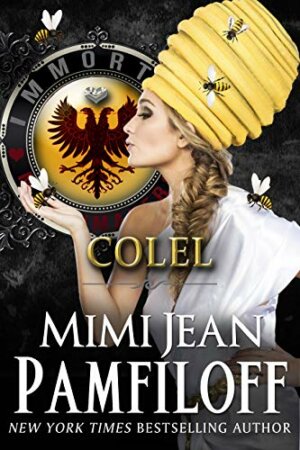 likes to be called, the "Mistress" of Bees, is on a trek across the world to try to determine the reason behind the dwindling numbers of the lovely little creatures she watches over. When her journey takes her to Colorado in the middle of a stormy winter, Colel comes face to face with the man who just might be her mate. Something she has spent her entire Immortal life searching for. But as is typically the case, nothing is easy. Particularly finding out her potential mate is highly allergic to bees.
'The attraction she felt just now had to mean something. The Universe wouldn't dare play this sick joke on her. Not after everything she'd been through.'
Rys (pronounced Rise) is the local floral shop owner and quite a handsome human, if Colel is being honest. But how can he possibly be a match for her? Her hive is all abuzz, planning to attack Rys should he get too close. And he seems to want nothing to do with her after seeing her wearing a hive-shaped-hat covered with her babiees. But Colel knows that if they really are mates, they will continue to be thrown together and will have to figure out a way they can be a true couple. Every plan she comes up with is devious and could fail horribly. With little to no help from her brothers on the matter, Colel is on her own to bring Rys into her world–without scaring him away first.
'Nothing in this world was worth having if you weren't willing to fight for it. But for the first time ever, she had something more to fight for than her bees. This time, it was her happiness.'
When I started reading Colel I knew that a) it's a Mimi Jean Pamfiloff book, with all the craziness that entails, and b) it's part of the Immortal Matchmakers series, so it was going to be one heck of a zany time. What I can say *after* reading it is: hold on tight for a wild and comical journey unlike any other.
Chuck landed on her nose and pressed down with his six tiny legs.
A hug? Awww… Her heart melted. They had been worried that something bad had happened.
"You guys…" She blew out a breath. "I'm sorry I left without telling you where I was going."
She felt more little bodies climb onto her arms, neck, and face, covering everything but her eyes. Lots of little hugs.
You know when an author puts a "warning" about the language and sexy content of the book at the beginning of it–and in the book's synopsis–that you'd better take heed. Colel definitely lived up to that warning, but in the best of ways. If you've read any of the other Immortal Matchmakers novels, or anything else by MJP, then you know the level of humor and the Hot factor in her writing. Honestly, Colel kicked it up a notch if you can believe it. I had such a good time getting to know the Mistress of Bees better (and her babiees) as well as catching up with the rest of the ridiculously funny immortals like Zac, Cimil, and yes, even Minky this time around. Boy was there a lot going on!
Colel was a pretty interesting character. I kind of had to feel bad for her, being that she was several millennia-old and was seriously–I'm talking extremely–in need of some lovin'. And of course MJP, in her tricky way, paired Colel up with a florist who was deathly allergic to bees. How's that for a twist, right? I could tell right away that there was something else going on with Rys, though. He definitely did have a secret…a *big* one that came into play at the end of this story in a sneaky manner. It wasn't easy to figure out how Colel and Rys would ever get things to work out between them but I have to say it was wildly entertaining and surprisingly heartfelt in the end. Oh, and the setup for the next book (featuring Brutus!) promises lots more antics with our favorite Immortals in the near future.
The Immortals were up to their normal wacky naughtiness in Colel, a paranormal romance full of laughs, plot twists and snarky, smexy goodness. You definitely don't want to miss this gem!
Book Info:

Publication: Published April 16th 2019 | Pub: Mimi Boutique | Immortal Matchmakers, Inc. #5
From New York Times Bestseller Mimi Jean Pamfiloff comes a Standalone, Romantic Comedy a la Paranormal…
COLEL , Book #5, the Immortal Matchmakers, Inc., Series
WARNING:
This book contains foul language, gratuitous sex against a truck, outrageously rude immortal warriors in leather pants, snow, pigheaded gods, a sexually frustrated goddess, a very hot and hunky florist guy with a bad attitude and a big secret, Brutus bubble baths, a sneaky invisible unicorn, unrequited love, bees, bees, and more bees, and chocolates.
SOMETIMES LOVE BITES AND SOMETIMES IT STINGS.
Colel, the Goddess of Bees, has been looking for Mr. Right for over seventy thousand years. So when she meets the hunky owner of a small-town flower shop and explodes with flutters and tingles, she's almost certain that he's the one.
Only two problems: her tiny black-and-yellow army suddenly won't let her anywhere near him, and…is that a freaking epinephrine pen in the fridge? "Dear gods! He's allergic to bees? Say it isn't so."
If simply dating the guy will kill him, how will she ever know for sure if he's really the one?
Colel has a solution, but it's drastic. Even for her. And what if he says no?