Ice Hot by Tracy Goodwin is one sexy, hockey romance, full of passion, heat, and sass. If I indulge in a sports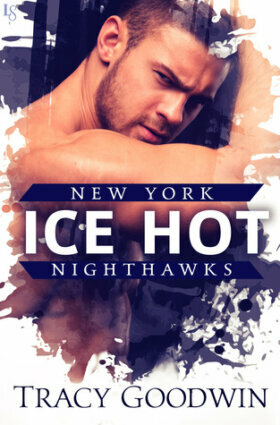 romance, it's usually a hockey one. That being said, Ice Hot, is definitely a favorite that I will cheerfully read over and over again.
Christian is a hot shot hockey player trying to get his new team to the cup. He's a good captain, but unfortunately some people on the team set out to make his job a nightmare. One person, specifically, will do anything to bring Christian down. After having a bad day, Christian bumps into Serena. Serena doesn't recognize Christian or his profession. It's a first for Christian and to say he's smitten after their first meeting is putting it lightly. Christian is immediately attracted to her and can't keep her off his mind.
Serena has curves, but more importantly she owns her curves! She's a confident and sexy woman, who makes no apologies. She makes it very clear to Christian that she doesn't do one-night stands and Christian doesn't do relationships. But for the first time, Christian is ready to pursue one, just to be with Serena. It doesn't take long before Christin is in over his head and trying to navigate work with play. But when someone tries to ruin their relationship will anyone be left standing?
Serena and Christian both display vulnerability, due to circumstances in their past. Serena because of her weight and her previous experiences with men. Christian due to his home life growing up. Their pasts make them who they are today, but it's not without difficulty.
I loved both Serena and Christian. Serena because she embraces her weight and sends a positive message to other women. I love her attitude. As for Christian, he's a sexy man who knows how to handle his stick. He also rescues dogs and adores Serena. Christian also knows how to grovel, which turns out to be a good thing!
If you love hockey romances and instant-love, make Ice Hot your next read!
Book Info:

Publication: March 5th, 2019 | Loveswept | New York Nighthawks #1
The Nighthawks are hockey's new expansion team. They're ice hot. And they're all about the chase.
Christian: They call me a hockey god because I'm a beast on the ice . . . and off. Men want to be me and women just want me. But now that the New York Nighthawks expect me to lead their team to victory, it's all work and no play. My eyes are on the prize. Until I meet Serena Ellis, a sexy, curvalicious blonde who doesn't know me from jack. And just like that, I'm hooked.
Serena: I don't do one-night stands—especially with celebrity jocks who date models. Lots of models. But the god of hockey is a temptation that's hard for mere mortals to resist. And after the best kiss of my life, I'm ready to throw my one-night stand rule out the window. Except Christian Chase won't let me. He doesn't want a one-night stand. He wants it all.