In Come A Little Bit Closer (The Sullivans #7) by Bella Andre, Movie star extraordinaire Smith Sullivan loves his career and the opportunities it's given him. The only downside has been finding a true, honest love like his parents had. It seems women only want to date Smith for his money or to become famous. While that may have been fun in his twenties, he's ready to settle down now in his thirties. Smith realizes when he meets his co-star's manager, her big sister,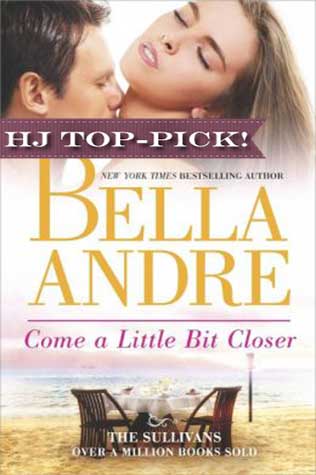 Valentina Landon, that he's found The One. No doubt about it. But it will take some convincing on his part to get her to even go out on a date, let alone spend the rest of her life with him.
"I've never wanted anyone or anything the way I want you. You're making me cross lines, break my own rules, to have you. I need you, Valentina. So damn much it's tearing me apart."
Valentina Landon has a strict rule to never date actors. After watching her mother's heart get broken repeatedly by dating them, she wants no part of it. So of course she just has to go and fall for her sister Tatiana's co-star on set of her breakthrough role. Talented Smith Sullivan is not only directing and starring in the film, he also wrote the touching screenplay. When Smith begins to pursue Valentina, showing her how tender and caring he is, she wants so much to give in. But she's always had a fear of being thrown into the spotlight, knowing how complicated it would make a relationship. And with a superstar like Smith, how could they have any privacy to be a normal couple?
'But all this time had she had it backward? Instead of being a weakness, wasn't risking everything to love actually the strongest, bravest thing she'd ever do?'
Come A Little Bit Closer is the unbelievably sensual seventh installment in The Sullivans series by uber talented Bella Andre. Although I love them all, Smith has now become my favorite Sullivan brother after reading his journey to a HEA. *happy sigh*
'What, she suddenly found herself wonder, if she didn't fight it? What if she let falling in love with him be as natural as gravity?'
I've said it before and I'll say it again, there is something magical about the Sullivans. I'm not sure if it's the family dynamic, Mama Mary's wisdom and love for her children, or how solid a family they are even though all eight siblings are so very different. Maybe it's all of the above. But it just works. Every. Single. Time. And I always have a tough time putting these books down. They are definitely not conducive to getting any sleep or getting any work done! Not that I mind… 😉
I thought Smith and Valentina were so great together. They both wanted the same thing: to settle down and find true lasting love. Smith was so incredibly thoughtful in his pursuit of Valentina, partly in thanks to his mother's advice, but mostly because that's just who he really was. I loved their dialogue together. Valentina was feisty and passionate which worked well with Smith's confident but genuine demeanor. They couldn't stay away from each other, constantly stealing touches or having quick liaisons away from prying eyes, which was very sexy and fun. I was happy that we also get to catch up with the rest of the Sullivan clan…and some of them play important roles in how things end up between Valentina and Smith.
I think contemporary romance fans will fall in love with Smith & Valentina and their passionate romance just like I did. We also get the added bonus of reading scenes from Smith's screenplay throughout the story, so it's like getting two romances in one! A definite must for fans of the series and Bella Andre's fabulous writing style.
Book Info:

Published February 25th 2014 by Harlequin MIRA | Series: The Sullivans #7
Fame, fortune, and falling in love…
Movie star Smith Sullivan can't afford any distractions. He's staking his entire reputation on his new film…but he can't stop thinking about Valentina Landon and the fire he sees smoldering just beneath the surface of her cool exterior.
Valentina isn't averse to sensual pleasure, or even to the idea of finding true love, but as a Hollywood business manager she's watched too many smart women fall for actors…only to be torn apart when the fairy tale comes to its inevitable end.
But when intense weeks together on set turn their heated attraction into red-hot flames of passion, Smith knows he has to find a way to convince Valentina to let him get a little bit closer. Close enough to completely steal her heart…the way she's stolen his from the beginning.