Come to Me Recklessly (Closer to You #3) by A.L. Jackson: Christopher was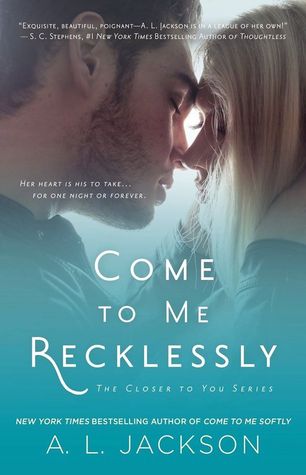 the popular bad boy with quite the reputation in high school. He enjoyed parties and getting in trouble with his best friend Jared, until he fell for good girl Samantha. As a preacher's daughter, Samantha always felt she needed to live her life a certain way. She felt constrained by the scrutiny and became a target of bullies. Until the day that Christopher stepped in and he changed her world. Parents, Jared, and other events conspired to get in their way and put an end to their forbidden, opposites attract romance.
Seven years later and Samantha unexpectedly runs into Ally. While Samantha missed Christopher's sister, the last thing she wants is to be drawn into his world again. She's still feeling the scars from how their relationship fell apart. Ally is persistent and Sam caves because she so badly needs a friend. Sam has fallen into a relationship with Ben and she's not happy. Ben was there to pick up the pieces after Christopher the first time and he has her family's stamp of approval, but he doesn't make her heart race.
Christopher has spent the last seven years trying to not feel anything at all. He's now in a successful business and has become quite the playboy. He's now earning the reputation he had in high school. His world is rocked when he learns that Sam and Ally have resumed their friendship.
Laughing, Mom patted her. "Don't worry about it. Christopher and I will handle it, won't we sweetheart?"
"Oh, gladly," I drew out. Now I was getting her drinks? Tonight just got better and better. Apparently my mom loved to torture me.
Samantha hesitated, nodded. "Okay…that would be really nice."
Then the girl had the nerve to smile. Like really smile, her red mouth all twisted up like a bow, a present I wanted to tear right into, knowing all the joys hidden inside.
Christopher and Sam shared an unforgettable bond as teens, and that connection and chemistry is still there and more powerful after all this time. Neither can forget the pain and heartbreak of the past.
I found my voice. "You broke my heart once. You don't get to do it again." Then I turned my back and began to walk away.
His words hit me with the force of a two-ton truck. "You broke up with me, Samantha. Remember? I think it's time you admitted who broke who."
Since Sam is unwilling to give up Ally as a friend, she can't ignore Christopher and Christopher begins to feel again. He realizes that Sam brings a light into his life that he needs, even if they just remain as friends. Their intentions are good, but staying friends was never an option with their obvious chemistry. Christopher can be very sweet and romantic, which makes for a stark comparison to Sam's current live-in boyfriend. Christopher shows her that he's not forgotten her, or their time together, as her pursues her one more time.
Come to Me Recklessly is a fabulously emotional second chance at love for two people meant to be together. Come to Me Recklessly is a connected standalone in the Closer to You series. While reading the previous two books would provide another perspective on their past, you wouldn't need to read them to understand Christopher and Samantha's story.
A.L. Jackson provided two intelligent and strong characters in Christopher and Samantha who are dedicated to their families and friends. Ms. Jackson's well-written story pulled me in and kept me trying the pages through the very last page. Fans of Jamie McGuire and Colleen Hoover would enjoy Come to Me Recklessly!
Book Info:

Publication: April 7th 2015 by NAL | (Closer to You #3)
His heart was turned off…
Until she turned him on…
Christopher Moore gave up on the idea of love years ago. Now, his life is an endless string of parties and an even longer string of girls. Enjoying the physical perks with none of the emotional mess, he's convinced everyone that hes satisfied—everyone but himself.
Samantha Schultz has moved on with her life. Finishing her student teaching and living with her boyfriend, shes deluded herself into believing shes content. But there is one boy she never forgot—her first love—and she keeps the memory of him locked up tight. She will never allow any man to break her the way Christopher did.
When Christopher's sister and her family move into a new neighborhood, Christopher is completely unprepared to find Samantha living at the end of the street. Memories and unspent desires send them on collision course of sex, lies, and lust. But when guilt and fear send Samantha running, Christopher will have to fight for what has always been his.