Coming Home for Christmas by Marie Ferrarella, leads readers down a road of healing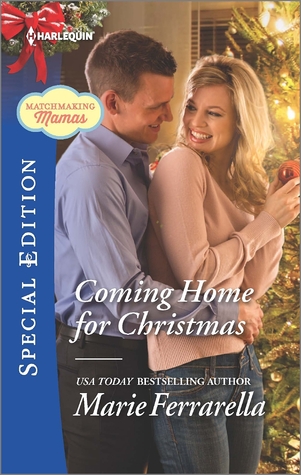 and a path that deals with moving on and letting go.
Keith has come home for Christmas after being gone for years, but the only thing he's coming home to is a house full of memories, most of them sad. The only reason he's there is because he got word that his mom died. The relationship between Keith and his mom is a complicated one. He wants nothing to do with the house. He's there to sell the house and tie up any loose ends, but in order to do that, someone needs to go through the furnishings and find a new home for them. This leads us to Kenzie.
When Kenzie shows up to handle the estate sale, Keith doesn't remember her. She's no longer the clumsy teenager he once knew from high school. Kenzie is beautiful, professional, and confident. She looks at Keith and sees heartbreak. She knows he's hurting and she does everything she can to make Keith comfortable.
I loved Kenzie's character. She was so sure of herself and didn't let Keith scare her off. I really like how she kept at him and never gave up on him, but also let him go when the time was right.
"You let me leave. You let me go four hundred miles away from you to find out that I didn't want to be four hundred miles away from you."
Coming Home for Christmas is a bittersweet read that includes facing old memories and creating new ones.
If you're looking for a sweet and enjoyable holiday read, filled with complex and emotional characters, Coming Home for Christmas is the book to pick up.
Book Info:

Publication: October 20th, 2015 | Harlequin Special Edition |
They say you can't go home again, but Keith O'Connell wasn't worried about staying. He was just back in town to sell his late mother's house and try to avoid old emotions. Of course, hiring estate sale specialist Kenzie Bradshaw meant the possibility of creating new memories before he left. Especially once the Matchmaking Mamas hatched a plan.
Kenzie Bradshaw was used to the turmoil involved in estate sales, though she'd never had a client like Keith. He wanted everything gone. She knew, however, there were some things and some memories he shouldn't lose. Convincing him to spend one last Christmas in his family's home could melt his hardened heart. But would it bring back the man she used to know and love?