Wynn in Doubt by Emily Hemmer is a feel good book about finding yourself, making peace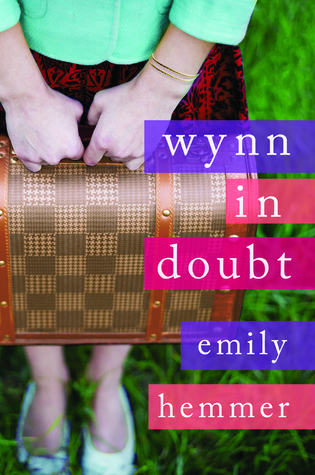 with the past, and having the strength to stand up for what you believe in, when everyone else tells you not to. This is the story of Wynn and Oliver.
Wynn Jeffries has always done what she was suppose to. The good sister who always gave up her dreams to make everything better for everyone else. The one that everyone counted on, depended on, expected to just fall in line and do as she was told. Stuck in a dead end job, Wynn begins to wonder what has become of her life. When the boy that she has had a crush on all her life comes strolling back into her life, hot, sexy and all grown up, Wynn has a hard time connecting the her past to the present.
Oliver Reeves is a rockstar. He has made it to the big league, but somewhere along the way, he has lost the passion that he once felt for music. Taking a break and coming home to try to recapture the love that he felt for his music, he is struck by Wynn, the girl that he could not seem to forget, the one that he always tried to get to notice him. Working together, they begin to strike up a freiendship, and maybe something more.
When her grandmother passes away, an old family secret surrounding Wynn's great-grandmother comes to light. Oliver and Wynn, despite the protests of Wynn's family, embark on an adventure to uncover the truth about what happened to Wynn's great-grandmother. Their journey will lead Wynn on a path of self discovery, and will give her the courage that she has lacked all her life to stand up for herself and allow her to spread her wings and fly.
I loved the connection between Oliver and Wynn. The search for the truth of the past pulled them closer together. Oliver found his love for music again, and Wynn found the courage that she lacked to stand up for herself and do the things that she always wanted. Their journey will take them in different directions, but in the end, it will bring them back together in a sweet and beautiful HEA.
If you enjoy a story about finding yourself, with a little bit of mystery and a beautiful HEA, then you will truly enjoy Wynn in Doubt. I know that I did.
Book Info:

Publication: October 6th 2015 | Lake Union Publishing |
Wynn Jeffries has wanderlust. Unfortunately, her life stalled somewhere between graduating from college and slinging drinks at the local dive bar. Stuck in a one-room apartment with no career, no boyfriend, no…life, she dreams of something more. Something amazing. Something like Oliver Reeves, her high school crush, who's back in town and reminding Wynn of the way she used to be.
When a forgotten news clipping falls out of a book belonging to Wynn's grandmother, a well-kept family secret is finally revealed. Is Wynn's gypsy spirit the result of an overactive imagination, or did she inherit it from a woman so determined to live a big life, she gave up everything to have it?
Together, Wynn and Oliver attempt to put together the missing pieces of her family's past and unravel the mystery behind her great-grandmother's disappearance. But after so much time succumbing to fear and regret, can Wynn ditch her safe, routine life for the chance at an extraordinary future?