In Commander in Chief (White House #2) by Katy Evans, President.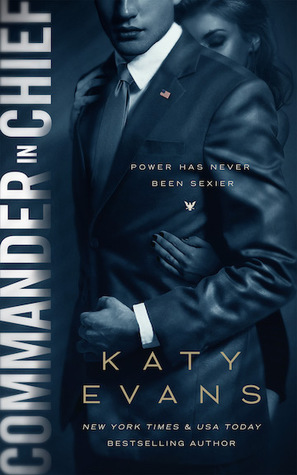 Matthew Hamilton will have to get used to hearing that term when people speak to him now. His time campaigning and telling the people of America exactly what he hopes to accomplish has been successful in earning him the presidency. But even though Matt is ready to dig in and make some positive changes in his country, he can't help but think of Charlotte Wells, the woman he wants by his side forever. So while he plans out his course of action in the White House, Matt is also busy trying to find a way for them to be together without causing scandals and backlash.
'I shed more than my clothes when I'm with her. I shed every preconceived notion of who I should be. My last name, the presidency, everything is gone–only I remain. A man, flesh and blood, not perfect, but trying his damn best to be…'
Falling in love with Matt was easy. Letting him go of him was one of the most difficult things Charlotte has ever been through. And on the eve of his inauguration, she's still reeling from the depths of her feelings for the charming, sexy, powerful man. So when he offers her a way to stay in his life and to help create the change their nation so desperately needs, how can she say no? Charlotte begins to learn that she is capable of more than she ever thought possible and hopes for the day when she and Matt can be together in the public eye as the man and woman in love that they truly are.
'I wanted to make a difference, to find out my calling, to have a man to love. This is it. Unbelievably, this is it. A normal girl, with the most extraordinary love from the most extraordinary man.'
Commander in Chief carried forward where Mr. President began, this time proving the lengths that both main characters would go to in order to show their love and support for each other–and for their beloved nation.
"You wanted a leader to take you into this new era with courage. With conviction. And with an eye for getting things done. Citizens." Pause. "I will NOT. LET YOU DOWN."
Okay, so a LOT happens in this conclusion of Matt and Charlotte's years-long story but I don't want to spoil the journey for readers, so I'll do my best not to give too much away. I think what impressed me most was how this wasn't written as an overly dramatic novel but how it still held a lot of intensity, mainly in the relationship between Matt and Charlotte and their need to do right by the citizens of America. Theirs was one of the strongest, sweetest romances I've read in some time and I adored how they had such a great balance of tender moments mixed in with the erotic, passionate scenes.
Katy Evans was spot on as usual with her hero and heroine and made them relatable to readers…or at least to this reader. Matt was everything you would wish for in a president. He had integrity, grace, was ambitious, humble and giving, and truly wanted to do good in the world. And he was so wonderfully adoring and protective of Charlotte that it made me smile. Charlotte herself was a great example of a strong, capable, absolutely lovely woman just learning her way in politics. I loved that she still remained open-eyed with wonder at what her role could be in Matt's world, and with the power of Matt's love being showered on her. Charlotte might have been demure at times and could be looked at as traditional, but I think that was truly her personality and it worked for their circumstances perfectly.
If you're a fan of inspiring love stories, filled with honest emotions, tons of desire, and characters you would want in your corner fighting the good fight, then Commander in Chief is for you. You'll want to read book one first, but I think you'll enjoy every moment spent with charismatic Matt and gracious Charlotte. And by the way, I just have to say that Matt Hamilton *still* has my vote.

Book Info:

Publication: Published January 5th 2017 | Katy Evans | White House #2
The second installment of the White House Series, from New York Times and USA Today bestselling author Katy Evans.
We fell in love during the campaign.
The stakes were high.
Reputations could have been ruined.
Scandal hovered over us like a cloud.
Now the man I love is the President of the United States of America.
And its not my vote he is after.
He wants it all.
My heart. My body. My soul.
He wants me by his side.
In the White House.
Normalcy will be gone from my life, privacy forgotten.
I am only twenty three. I just wanted to play a part in history. But it seems like history wasn't done with me. The part where I lost my heart to Matthew Hamilton? It was only the beginning…