Devil's Mark (The Devil's Keepers #2) by Megan Crane (Jan 3) is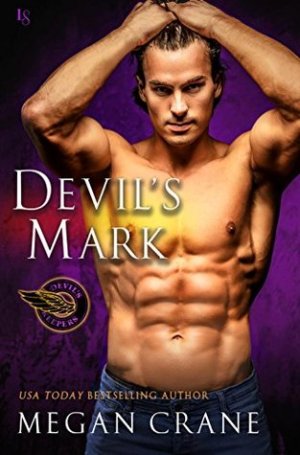 dark and dirty, everything that a MC story should be. I was lucky enough to read the first book in this series, however I found that this can be read as a stand alone without confusing the reader. This is the story of Holly and Uptown.
Holly Chambless has lived under her fathers thumb all of her life. The daughter of the Mayor, she thought that her father was and upstanding, honest man. But when he is arrested on corruption charges, the bubble that she has lived in her entire life come crashing in on her. Deciding to do something to shake off her good girl image, she never imagined that this would include Killian "Uptown" Chenier, the man that she has been crushing on since she was 16 years old.
Uptown knew the minute that sweet, innocent Holly Chambless walked in the the Drunk Gator that he was in trouble. Holly had stared in some of his most steamy dreams over the years, but what would a stuck up princess want with a swamp rat like him. But revenge is sweet and Uptown owes the Mayor a little payback after he used and abused Uptown's mother, turning her to a life of addiction. What better way to earn that payback than to corrupt Holly.
But what starts out as a plot for revenge soon turns into the real deal and Holly falls for Uptown, and he wants nothing more that to put a property patch on her, claiming Holly as his and his alone. But when deception from within the club comes to light and Holly ends up missing, Uptown and his brothers will do anything to get her back and Uptown knows without a doubt that his life will never be the same without Holly.
I literally devoured the book in one sitting. HOT HOT HOT! Uptown knew even before he laid a finger on Holly that she had ruined him for anyone else. Any Holly knew that Uptown was the only man that she could ever be with. I loved the push and pull that Uptown went through, as he tried to distance himself from Holly, only to have her stand up and fight for them. Even knowing that she was a pawn in a game against her father, when she learns the things that her father was truly capable of, she was willing to do anything to be with Uptown.
If you enjoy an amazing MC book, that I would highly recommend this one. I hope that there are more to come because this series is AMAZING!
Book Info:

Publication: Published January 3rd 2017 | Loveswept | The Devil's Keepers #2
The bestselling author of Devil's Honor returns with a deliciously sinful novel about a good girl who goes bad—and the notorious Louisiana biker who can't resist the lure of forbidden fruit.
Holly Chambless is tired of being the squeaky clean daughter of Lagrange's holier-than-thou mayor. When her father is charged with corruption, she realizes that her whole life's been a lie. Now's her chance to do all the things she never dared, like scoring a job at a bar where reputations go to die, or reconnecting with the biker who sparked a secret hunger in her all those years ago. Holly isn't a wide-eyed girl anymore—and this time she wants a taste of what has always been denied.
Killian "Uptown" Chenier has no time for stuck-up princesses. He likes fast bikes and wild sex. Sure, he remembers Holly. He sent her running with a wicked smile and a lesson about prying eyes. And sure, she's grown up smoking-hot, with a body he'd like to personally desecrate. But Devil's Keepers business is real and intense. Her daddy stole from the club, leaving his pretty blonde daughter a walking target. And when Uptown takes aim at what he wants, he never misses.