Confessions of a Pregnant Cinderella by Abby Green is a sexy and enjoyable 'surprise pregnancy'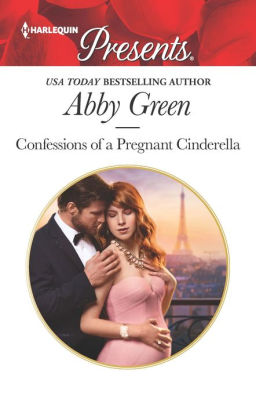 romance for a waitress and a playboy billionaire.
When Skye O'Hara spends a passionate night with a handsome stranger, something she's never done before, to her dismay she ends up pregnant! Having had difficulty contacting the man whom she's figured out is billionaire hotelier Lazaro Sanchez, her only hope is to try to speak to him at a public event – the announcement of his engagement to someone else (ouch).
While Lazaro was all set to go through with his marriage of convenience to another woman, Skye's appearance and sudden announcement of her pregnancy ruins his plans. To be truthful though, what he is feeling might be mixed with a tinge of relief? Having been abandoned by his aristocratic parents who while unwed, had conceived him then given him up to a foster home so as not to sully their reputations, he's pulled himself up from nothing and is determined to gain his rightful place in society, even if they won't acknowledge that he is their son. Marrying Leonora, a woman from another well known family would have helped in his quest, but now things have changed. Unlike his parents, he doesn't intend to abandon his unborn child, and with the paparazzi making a heyday of how he's gotten his 'mistress' pregnant, he needs to take control of the situation, and fast.
Proposing marriage to Skye, one where they can indulge in their attraction to each other but keep themselves emotionally detached (because Lazaro doesn't believe in love) and stay together for at least the first few years of their child's life will ensure Skye will be lifted out of poverty and have a new life beyond her wildest dreams. But can their relationship turn into one with a real happy ending?
I really enjoyed the characters in this story. While Skye's actions at the beginning are a bit over the top, she didn't mean to blurt out the truth of the pregnancy in public the way it happened and later on gets the chance to apologize to Leonora whose engagement party she ruined (who at least was not in love with Lazaro anyway). Because of Skye having no idea who her father is, it is important to her to make sure her own child will be known and acknowledged by Lazaro, making her desperate to tell him the truth. And as it turns out, Lazaro feels the same, especially after his own father won't admit who he is. Once the shock of the situation wears off, he sees an opportunity to keep Skye and his unborn child safe and protected (as he's seen where Skye lives and isn't impressed) and there's no denying the attraction that still flares between them. This leads to some sexy intimate moments.
With both of them having had complicated upbringings, they find that they have a lot in common and it's not long before they start to have deeper feelings for each other, though Lazaro tries to resist them. Eventually he realizes that he wants more than a marriage in name only, and they get their happy ending and a sweet epilogue. The settings are lovely, with Lazaro taking Skye to Venice for their honeymoon and his own private winery and estate in the Sierra Nevada mountains. This is the first of a duet, with Lazaro's half brother Gabriel (a man who doesn't acknowledge their sibling relationship) getting involved with Lazaro's ex, Leonora in the next story. I'm looking forward to reading that one too!

Book Info:

Publication: Oct 15, 2019 | Harlequin Presents | Rival Spanish Brothers #1
Compassionate waitress Skye O'Hara has imagined this moment. It's her chance to finally tell imposing Lazaro Sanchez that their unexpected and intense passion had consequences. Skye is determined to prevent her son from experiencing the chaos of her own childhood. But what can she expect from a playboy billionaire?
When she confronts him with the truth at an exclusive gala, their still-sizzling connection hits her like a thunderbolt. And what Lazaro says to her next is even more outrageous than her own confession…