One Christmas Eve by Shannon Stacey is the second book in her Cedar Street series. This story is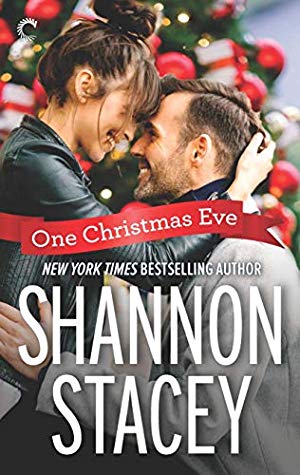 filled with humor, steamy scenes and Christmas fun. Essentially this story falls into the "opposites attract" genre and I always find those stories fun to read.
Zoe Randall would never be attracted to an uptight, suit-wearing, prudish guy. Or would she? Zoe's first encounter with handsome, sexy Preston Wheeler doesn't go at all well. Zoe owns Cedar Street Books with her cousin Carly. She was in the middle of taking down the store's front window Halloween display when Preston first walked by. Gosh darn! The display wasn't really all that risque. The witch was sexy looking and the paranormal romance books had some steamy covers. But still. Yet this man outside the window disapproved. Prude! A hot, sexy prude though!
As it turns out the hot, sexy prude, Preston Wheeler is opening as estate planning office right next store to Cedar Street Books. There's no avoiding this guy then. Of course, Zoe really doesn't want to avoid the guy. She is way too attracted to him to ignore him.
I loved the instances where Preston cuffs his sleeves to expose his forearms. Zoe's reaction to this is hysterical. There's plenty of Christmas decorating, Christmas parties and presents to make this a truly delightful Christmas romance.

Book Info:

Publication: November 11th 2019 | Carina Press | Cedar Street #2
They couldn't be more different. Or more perfect for each other.
New York Times bestselling author Shannon Stacey returns with a warm and cozy opposites-attract Christmas story.
Zoe Randall is busy living her life as she damn well pleases. She's back in her favorite town, her divorce in her rearview mirror, and living out her childhood dream of running a bookstore with her cousin. She has no interest in the uptight nerd who opened his boring-ass business next to her shop…until he complains about one of her sexy window displays.
Then it's game on.
Preston Wheeler knows he takes life a little too seriously. But when the saucy bookseller next door starts pushing his buttons, he can feel that changing. Beautiful, vivacious Zoe challenges him in all the best ways, and soon he's pushing her buttons right back: teasing and flirting all the way through the holiday season.
As Preston loosens up and Zoe is treated to the man behind the suit (particularly his forearms), she realizes she's more interested than she cares to admit. And Preston comes to see the beauty—the absolute delight—in adding Zoe's bright splashes of color to his once very black-and-white existence.