Dangerous Games by J.T. Geissinger picks up from the cliffhanger ending in Dangerous Desires. Eva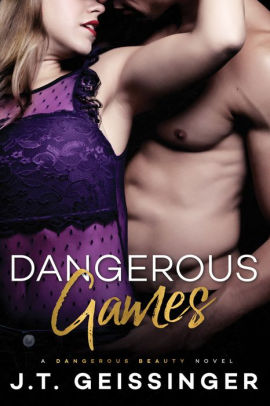 has only known brief periods of happiness and respite in her life and she's headed back into the sadistic clutches of her crazy ex. Dmitri is all too thrilled with himself for whisking her away, even with the changes in Eva. She's stronger for falling in love with Naz and she's also determined to play the game until she can get back to Naz.
Eva has learned many lessons and she knows exactly what she's in for with Dmitri. Constantly walking this fine line between giving Dmitri what he wants and yet trying to outthink and outmaneuver him may mean losing battles if it means winning the war. She has to adjust to her new surroundings, new guards, and new staff once again.
Naz has a lot on the line. Knowing the Eva is with Dmitri, especially knowing what he's capable of, eats away at him. He has to strategize and work with anyone if it means rescuing the woman who is his entire world.
"I told you what would happen if you lost your leverage."
"Yes. Your only purpose in life would be to kill me. Terrifying."
He sounds bored. Then, after a moment, he asks, "Why are you smiling?"
I turn my head and meet his gaze again. "You underestimating me is going to be fun."
As everyone is pulling together to locate Eva, she has to find the will and belief that she can survive Dmitri's latest plans. She's tested in new ways as she comes to better understand why he's been so relentless in pursuing and keeping her all these years. The tension ratchets up as secrets are revealed and connections are uncovered.
When I stop screaming, Killian is laughing.
"My God. That temper. You're a lit fuse, my friend."
At the top of my lungs, I thunder, "Where's my woman?"
He mutters, "Ugh. Me, Tarzan. You, Jane. Not an ounce of finesse."
Dangerous Games is the action-packed conclusion to the Dangerous Beauty trilogy. J.T. Geissinger doesn't pull any punches in this thrilling, surprising, and fitting story. Ms. Geissinger created an incredibly strong and resilient heroine in Eva and an entertaining bromance between Naz and Killian. Fans of Jessica Clare and Sierra Kincade will enjoy Dangerous Games.
Book Info:

Publication: November 19th 2019 | Montlake Romance | Dangerous Beauty #3
The game isn't over until somebody dies.
Eva knows what it's like to be imprisoned by a man's twisted obsessions. But after running, hiding, and finding refuge in a rescuer's arms, she's suddenly pulled back into the black hole of her past. Kidnapped by her sadistic ex, Dimitri, and with the love of her life left for dead, Eva is facing down the worst of her demons alone.
If Dimitri wants to play sick games, Eva's ready. She already knows how dark they can get. But despite her fears, she hasn't been abandoned. Naz is in hot pursuit. And the last thing Dimitri expects is for a dead man to come calling. For Eva and Naz, worlds apart yet bound by fierce and unbreakable passion, it's time to beat the devil.
To do it they'll have to be just as ruthless, seductive, and cunning. With every pulse of the heart, they must risk it all to play Dimitri's final game to its harrowing end—and win.