In Conquering his Virgin Queen by Pippa Roscoe, Odir Farouk needs his wife back.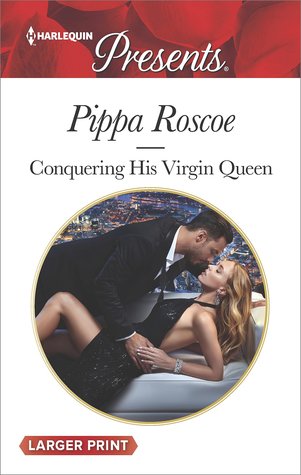 It's been six months since she left and he knows he was at fault because he couldn't give her what she needed most of all – his love. However, he doesn't have long to win her back, especially when a rather important announcement is soon to be made. Will Odir be able to convince Eloise to give him another chance, or will the one thing he can't give her continue to keep them apart?
"Eloise would never miss a charitable even that reaffirms the links between the World Health Organisation and the betterment of women in our country. But I hope that you will excuse us," he said, placing a reassuring hands on the ambassador's shoulder. "It's a little known s ecret that it's my wife's birthday tomorrow, and I have a special present for her."
Odir wrapped his strong arm around her waist like a steel clamp and started manoeuvring her from the room. "There's only one birthday present I want from you, darling, and that's a divorce."
This was such a wonderful second chance romance trope encompassing story because the heroine is feisty and not about to make things easy for the hero. It's also a story that blends plenty of emotion, delightful romance, compelling dialogue and fantastic characters that kept me entertained from start to finish, as the hero thinks the heroine is lying about something she did and she's adamant that she didn't do it. Will he discover the truth before he ruins their relationship beyond repair? However, it was from the moment the hero and heroine come face-to-face for the first time since she left him that had me hooked, as the heroine is determined to get what she wants and isn't about to be deterred. Will she get her way or will the hero be able to convince her to do what he wants?
"So you still won't believe me."
"Believe what? More lies from that delicious mouth of yours?"
Both the main characters are strong and determined to get their way, which creates plenty of tension and great moments that I couldn't get enough of. Indeed, the heroine is resilient, courageous and I liked that she wasn't afraid to stand up to the hero because he needed the challenge she creates to make him realize that love is the best thing for anyone to have in their lives. I also liked how the heroine handled everything she goes through in this story, especially with handling her loyalty to the hero's brother and then helping Odir deal with everything for when things become hectic for him in possibly becoming King. While the hero, he's loyal to the people of his country, determined to make things better for everyone because he doesn't want things to be like they were when his father was in charge and I liked how determined he was to support his brother once he discovers the man's secret. Really, he's a good brother that would do anything to make things easier for his brother.
"This is my sacrifice to make for the man I love. Because you have made me strong enough to bear it. I want this. I choose this. I choose you. I will stand by you and love you and be loved in return. All you have to do is say yes."
Overall, Ms. Roscoe has delivered a captivating read in this book where the chemistry between this couple increases every time they converse and the ending had me loving how brave Eloise is in going after what she wants when it comes to a future with Odir. However, it was the epilogue that wrapped this story up nicely because of how far the hero and heroine have come in their relationship and that the heroine finally got the wish she's always wanted – for her mom to finally get the help that she needs. I would recommend Conquering his Virgin Queen by Pippa Roscoe, if you enjoy second chance romances, the enemy to lovers trope, or books by authors Lynne Graham, Caitlin Crews, Dani Collins and Heidi Rice.
Book Info:

Publication: March 20th, 2018 | Harlequin Presents |
Six months ago, their marriage ended…
He has twelve hours to claim her back!
Odir Farouk is about to become king—but to take his throne, he needs his errant wife by his side! Odir denied his hunger for Eloise, refusing to compromise power for passion. His rejection drove her away. Now Odir has until news of his succession breaks to win back his queen…and pleasure will be his most powerful weapon!