Rock King by Tara Leigh: Shane is a rock god, one of the most well-known faces. He's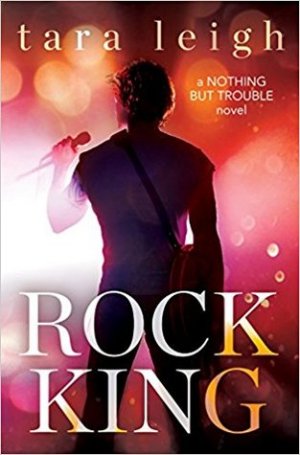 also in hiding. In his teens, he ruined lives, and it sent him on a spiral; one which wasn't helped by the rock lifestyle. To get out of addiction, he hires girlfriends to keep him straight, and they get a piece of the fame they want in order to jumpstart their careers.
Delaney is perfect on the surface, but underneath a whirlpool of trauma lies. All she wants is to get her life on track, and her dad out of prison, but she's stuck. Until Shane comes along, offering all the help she needs as long as she plays his girlfriend. To help her dad, Delaney is willing to play along.
But as they fall for real for one another, Delaney keeps her image to Shane while Shane shares his deepest self. She gives him acceptance, but he has no idea his perfect girlfriend has the same marks on her soul, and that may be enough to wreck them.
ROCK KINGS feels like the melodramatic New Adult romances I used to love. While I did enjoy it, I wasn't able to get swept away. Their intensity felt too silly and fake. I wanted real romance and intimacy, but instead I was mostly amused.
That said, there certainly exists a lot of tension for Shane and Delaney individually and as a couple. They both hold a lot of secrets and despairs, and even if it is overdone, I didn't necessarily know how it would work out.
My biggest issue is with the climax, however. For the intensity of the characters, the climax was cheap and too easy, and I just wish the author had deepened the final conflict and added melodrama there as well. Overall, though, for those who love the rock star romance or crave that melodrama, I recommend ROCK KING.
Book Info:

Publication: February 20, 2018 | Forever Yours | Nothing But Trouble #1
I'm not who you think I am.
Shane Hawthorne has it all. At least, that's what the headlines say about me. I have millions of fans, awards, more money – and women – than I know what to do with. But what you don't see is the wreckage I've caused. The memories and pain I can't escape, even when I pour them into music and spin them into gold.
I tried to forget. To lose myself in booze and groupies. It didn't work. It hurt me and – worse – it hurt my band. That's the last thing I want to do, so I'm cleaning up my act… starting with Delaney Fraser.
Gorgeous, smart, drama-free, and even nice – Delaney is the perfect "girlfriend." When I'm with her I don't have to pretend. It's like she sees the real me. And I can see a future with her. But that's dangerous. Because the truth is, Shane Hawthorne doesn't actually exist. He's a shield to hide who I really am. Fraud. Runaway. Addict. Murderer.
And it's impossible to love a lie, right?