Contracted as His Cinderella Bride by Heidi Rice is a sexy reunion romance for two people who met when they were young through an ill fated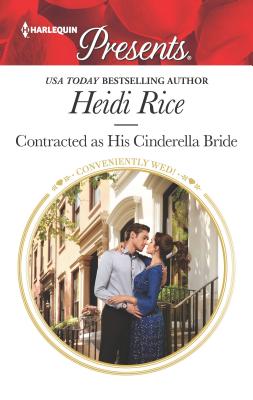 romance between their parents. Now they get to choose their own paths, one that leads them to a much brighter future.
When the summer romance between her mother and a wealthy French man ended abruptly, it was in fact a near miss for 11 year old Ally Jones as the man in question turned out to be abusive, to both her mother and his own teenaged son Dominic LeGrand. But the fallout from that summer was a descent into tough times for Ally and her mother who has since passed away. At the same time Dominic found a way to turn his circumstances around and has since become a wealthy businessman.
Their paths cross again when Ally, working as a courier, is tasked with delivering a ring to Dominic's house. To gain a business contract with a conservative American group, Dominic is determined to show them that he's no longer a playboy but seriously involved with someone. In reality he's a plan for a marriage of convenience but since he's just broken up with his intended possible bride he needs a new fiancee. Ally's arrival turns out to be perfect. Feeling guilty over what transpired that earlier summer and how his circumstances are so much better than Ally's, he offers Ally the part of pretend fiancee, for which she'll be handsomely rewarded. And, there's a definite spark of attraction between them as adults. Dominic's terms are strict – no complicated feelings involved, just a straightforward arrangement, which Ally accepts. But what happens when deeper emotions inevitably come into play?
I really enjoyed this story! There's some mystery surrounding that fateful summer when Ally and Dominic first met, and Dominic has felt a lot of guilt over not knowing what had happened to Ally and her mother – and he certainly doesn't feel better knowing the circumstances of her current situation. It's not until later in the story that more is revealed about that time.
Ally has some initial hesitation about accepting Dominic's offer even though she can really use the money as it feels like she's following in her mother's footsteps looking for a rich man to support her. As such, while she'll agree to a clothing and money allowance for the time she spends pretending to be his fiancee, she refuses to accept any post 'relationship' settlement. If she's going to do this, she wants it to be on her terms. I liked her character a lot, her resilience and her willingness to stand up to Dominic, and then to fight for him and their future together when he balks at accepting her willingly given affection. Trust is in short supply for Dominic and he must learn to trust Ally and his feelings for her. Sex is certainly not a problem, and there are some sensual and passionate scenes that move their relationship forward. Eventually they find a way to compromise about their feelings, and the past and move on to a better and brighter happy ending. It's a lovely Cinderella themed romance.
Book Info:

Publication: July 16, 2019 | Harlequin Presents | Conveniently Wed
From penniless delivery girl…
To billionaire's bride?
The perfect summer Ally Jones spent with gorgeous French billionaire Dominic LeGrand was unforgettable, despite her unrequited feelings. Now Ally's a struggling courier and is stunned when her latest delivery brings her to Dominic's door. Yet what's even more shocking is his proposal! Dominic needs a temporary wife, but with the enticing promise of his expert seduction teasing Ally to her limits, can she really just play the role?