In The Oysterville Sewing Circle by Susan Wiggs, Years ago when Caroline Shelby left her seaside hometown of Oysterville,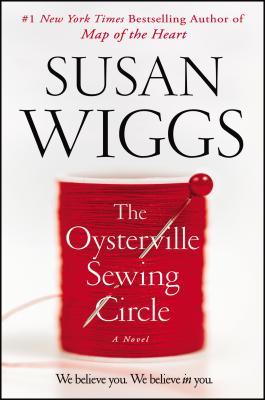 Washington, she had big dreams of taking the fashion world by storm with her fabulous designs. It's been a struggle, but she eventually begins to make a name for herself in the cutthroat business in NYC. Unfortunately for Caroline, it all unravels right before her eyes. Her career. Her precious designs, no longer making a splash on the runways. And worst of all, the loss of her closest friend, leaving her to take on the responsibility of two young children still in the depths of their grief. So Caroline does what she knows is the next logical step: head home to Oysterville.
'She had been transformed, not by a court document, but by two incredible little human beings who had come into her life uninvited and set up permanent residence in her heart.'
Caroline's family welcomes her and her two charges, Addie and Flick, with open arms as she expected. But it's quite a change being back in the teeny coastal town compared to the Big Apple. As Caroline tries to find her way again, she reconnects with some local friends, including former Navy SEAL Will and his wife Sierra, her two besties from her teenage years who have run into some issues of their own lately. She's shocked to also find, after some digging, that her friend's harrowing life in NYC before she passed away is not uncommon, suffering at the hands of an abuser. Caroline decides to form a group, The Oysterville Sewing Circle, so she can help other women who have been, or still are, victims of domestic violence. It's the least she can do. She wants to make sure Flick and Addie are safe, secure, and know there are people willing to help others in need, even if it unfortunately wasn't in time to help their own mom.
'There was no way to save them all, but Caroline had to believe change was possible. She had to believe the Sewing Circle was a lifeline for some of these women.'
Heartwrenching with its raw, genuine emotions about situations all too real for some women, The Oysterville Sewing Circle was a touching novel about the devastating effects of abuse, but even more so, the strength that can be drawn from female friendships.
'One thing she had learned from the Sewing Circle was the power in a group of women determined to tell the truth.'
Trigger warning: View Spoiler »Domestic violence, other forms of physical/mental abuse, drug use. « Hide Spoiler
Sadly, this will *not* be an easy read for far too many women out there. But in my humble opinion, it was an extremely important story to tell, particularly in this age of the #MeToo movement–which is briefly mentioned. Told through the eyes of three very different characters who had been friends since they were teenagers, Caroline, Will, and Sierra were quite convincing in their emotions, reactions, and their fallibility. We got see them in snippets of time throughout their lives via flashback sections in the book which helped lay out the framework for the direction their lives–and their friendship–took as adults. And what a complicated situation it ended up being.
This was mainly set in the sleepy coastal town of Oysterville, Washington, which seemed so real I could picture the sand dunes and hear the ocean waves. The town meant the world to Will, Caroline, and Sierra for different reasons, but overall because it was where they formed their strong bond. Susan Wiggs also set part of Caroline's portion of the story in NYC. The hustle and bustle was starkly different in comparison to Oysterville, but I loved that dichotomy. It was interesting to see how her young charges, Addie and Flick, took to the seaside town after knowing nothing but a large city. And I loved the family vibe and small town compassion it brought to their lives.
The "sewing circle", which wasn't actually a place to sew but rather a safe place for local women to meet who had suffered some form of abuse, was absolutely humbling. Tragic stories. Harrowing encounters. Years of silently hiding and being ashamed of their supposed loved ones harming them, the women's stories, while fictional, were definitely thought-provoking. I was so proud of Caroline for stepping forward on behalf of her beloved friend who lost her life, and who had left behind two lovely children. Not only did Caroline become guardian to Flick and Addie, but she also formed that group of women who bolstered each other and shared their experiences in a way that could help them heal and move forward if they chose to do so.
A master storyteller, Susan Wiggs has created what I feel is her most poignant, emotionally-driven story. It's an empowering journey that will stay with readers long after the final page is read and will surely capture their heart along the way as well.
Book Info:

Publication: Published August 13th 2019 | William Morrow |
The #1 New York Times bestselling author brings us her most ambitious and provocative work yet—a searing and timely novel that explores the most volatile issue of our time—domestic violence.
At the break of dawn, Caroline Shelby rolls into Oysterville, Washington, a tiny hamlet at the edge of the raging Pacific.
She's come home.
Home to a place she thought she'd left forever, home of her heart and memories, but not her future. Ten years ago, Caroline launched a career in the glamorous fashion world of Manhattan. But her success in New York imploded on a wave of scandal and tragedy, forcing her to flee to the only safe place she knows.
And in the backseat of Caroline's car are two children who were orphaned in a single chilling moment—five-year-old Addie and six-year-old Flick. She's now their legal guardian—a role she's not sure she's ready for.
But the Oysterville she left behind has changed. Her siblings have their own complicated lives and her aging parents are hoping to pass on their thriving seafood restaurant to the next generation. And there's Will Jensen, a decorated Navy SEAL who's also returned home after being wounded overseas. Will and Caroline were forever friends as children, with the promise of something more . . . until he fell in love with Sierra, Caroline's best friend and the most beautiful girl in town. With her modeling jobs drying up, Sierra, too, is on the cusp of reinventing herself.
Caroline returns to her favorite place: the sewing shop owned by Mrs. Lindy Bloom, the woman who inspired her and taught her to sew. There she discovers that even in an idyllic beach town, there are women living with the deepest of secrets. Thus begins the Oysterville Sewing Circle—where women can join forces to support each other through the troubles they keep hidden.
Yet just as Caroline regains her creativity and fighting spirit, and the children begin to heal from their loss, an unexpected challenge tests her courage and her heart. This time, though, Caroline is not going to run away. She's going to stand and fight for everything—and everyone—she loves.