In Contracted for the Spaniard's Heir by Cathy Williams, Businessman Luca Ross's life was flipped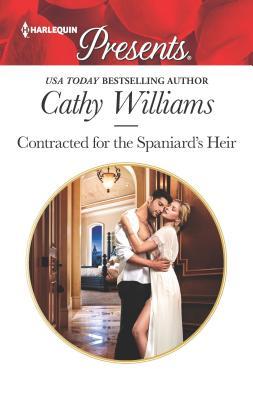 upside down when his godson Jake became orphaned and was placed in his care. Used to commanding a boardroom, not a six-year-old, Luca's attempts at hiring a nanny to help his young charge didn't go as planned. Until Ellie Edwards, a local teacher with definite opinions on how Luca should care for Jake, tumbles into their lives. As the handsome billionaire tries to entice Ellie into caring for his godson, she realizes it is an opportunity to help Jake overcome his grief and bond with his guardian. But it also is a chance to do something out of character for once, as Ellie contemplates exploring the intense attraction between herself and Luca.
'A quiver of excitement rippled through her as their eyes met and tangled. This was a business arrangement, but right now it felt like an adventure…'
Sparks of attraction flew instantly between our hero and heroine in Contracted for the Spaniard's Heir–even if they came from completely different worlds. But what made this romance a whole lot of fun was watching Ellie persuade Luca to forget for a few moments about being a billionaire and focus instead on getting to know his young godson Jake; and with Luca showing Ellie how beautiful she truly was and how spontaneous she could be.
"I work for you, Luca."
"And I have always kept very distinct lines between business and pleasure."
He reached out to touch her cheek and felt her shiver under his touch. "Until now."
I do enjoy an opposites attract romance and this was a perfect example of how it should be done. Author Cathy Williams took two people who started off butting heads, one of them (Luca) with an agenda on his mind, and then turned them slowly into a charming couple who fit into each other's lives surprisingly well. I liked that Luca's godson Jake was part of everything, particularly in each decision they made. It enhanced the bit of friction between the two adults as well as brought a whole new softer side out of Luca with Jake's innocent comments and observations. The limited background between them paired with the rather sad reason he became a part of Luca's life in the first place was something that I found very touching and made me cheer on the bond forming between the two of them.
A meet-cute that turned into a passionate romance, taking our main characters by surprise, Contracted for the Spaniard's Heir was a swoon-worthy romp that I think fans will certainly enjoy.
Book Info:

Publication: February 19th 2019 | Harlequin Presents |
Hired for the tycoon's convenience…
Engaged to secure his legacy!
Brooding Spaniard Luca Ross has the world at his feet. But left to care for his orphaned godson, the heir to his unimaginable wealth, he's completely out of his depth! Then bubbly, innocent Ellie Edwards stumbles into his life, and she's exactly what Luca's been looking for. Contracting her to look after the young child is easy—denying their fierce attraction is infinitely more challenging…
"A passionate, romantic read." -Goodreads Reader on The Tycoon's Ultimate Conquest
"An utterly enjoyable enemy to lovers story…the chemistry between this couple is charming." —Harlequin Junkie on Legacy of His Revenge