Space by Penny Reid is the second part of her Laws of Motion new adult trilogy. It's the story of Mona, a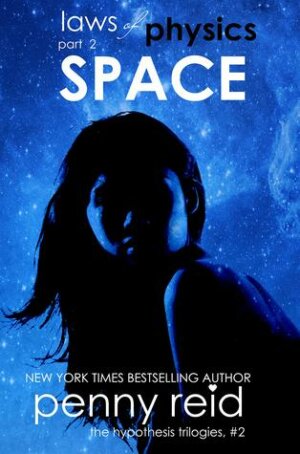 physics genius and Abram, a musician and friend of her brother Leo. Out of necessity, this review will contain some small spoilers for part 1, Motion, a review of which can be found on this site. As Space proceeds directly after Motion, none of the parts are meant to be standalone stories.
It's been two years since Mona and Abram spent that fateful week together, where Mona pretended to be her twin sister Lisa. Since then she's followed news of Abram's musical career from afar, until he changed his last name and she lost track of him. She's been busy with work but that hasn't stopped her from thinking about him and wishing things had ended differently between them. Needing a break, she's planned a trip to her parents' luxury cabin (20 rooms!) in the mountains with her friend Allyn.
Upon arrival she discovers that her brother is also there, with a group of his musician friends – including Abram. A winter storm has stranded them for the next few days. Mona will have no choice but to face the music with Abram. Will their chance reunion clear the air between them or ruin what they might have had for good?
Just like Motion, this story takes place over a short span of time (less than a week) but packs an emotional punch! While Motion was told all in Mona's point of view, Space is a dual POV story so we finally get to hear Abram's thoughts – and they aren't very good ones at the start. It's quickly revealed that he knows that Mona traded places with Lisa for that week and thinks she did it to make a fool of him, not knowing that Mona was doing it at her sister's request for very specific reasons. Mona on the other hand doesn't know that Abram knows, so she's trying to screw up the courage to tell him the truth. Their initial encounters are fraught with tension and anticipation making it a story that's near impossible to put down!
Without giving away too much of the plot, Mona and Abram are finally able to reveal certain things to each other that move the story along and push them in the right direction, and we get some hot kissing scenes too! Abram goes from hating Mona for what she did to him to admitting the reasons why he reacted so strongly to her betrayal in the first place. His current musical success is related to that week with Mona and the songs he wrote after the fact, leading him and his band to be about to embark on an extended concert tour when their winter holiday is over. Mona knows what 'real' musicians lives are like, having witnessed her parents, famous singers with an open marriage, and all of their affairs. She believes this week might be all she gets with Abram once he starts his tour. Mona has her own research plans to contend with including a trip to Switzerland so the story ends not with an ' OMG!' cliffhanger but rather a 'holding my breath for their HEA' one.
A few other points: We get to see a bit of Mona's twin Lisa at the start, and discover what really happened to her in Motion, as well as their reconciliation. Because Mona's brother Leo is at the cabin we also get to see a bit of these siblings together and a possible romance (?) for Leo and Mona's friend Allyn. Mona's reluctance to be touched by others is a reminder of the sexual harassment experience that is discussed in Motion, and she's ready to start telling her family the story. Even with all the tension and seriousness, there are plenty of laugh out loud parts from Mona's internal dialogue, making this just a pleasure to read all around. The final part, Time will be out in April and I for one can't wait to conclude Mona and Abram's story!
Book Info:

Publication: Mar 11, 2019 | Cipher-Naught | Laws of Physics #2
One week.
Private cabin.
Famous physicist.
Still an unrepentant slacker.
What's the worst that could happen?
Mona's meticulously planned allotment of relaxation is thrown into chaos by the unscheduled appearance of her older brother's band of friends, including the one person she'd hoped to never face again. Abram still makes her feel entirely too much, which is one of the reasons she disappeared after their one week together. But now, trapped on a mountain of snow and things unspoken, Mona will have to find a way to coexist with Abram, chaos and all.