Convenient Bride for the King by Kelly Hunter is the second book in her Claimed by a King quartet. Each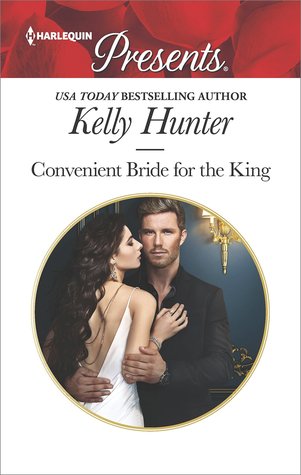 story can be read as a standalone, but they do appear to follow each other in terms of overall story arc. This one is a friends to lovers romance with a royal touch, and is one of my favorite reads so far this year.
Princess Moriana of Arun is tired of doing what's expected of her. Betrothed as a child to Prince Casimir of Byzenmaach, she's been informed that their engagement has been called off. For years she'd put all thoughts of other men on the back burner, keeping her virginity safe for her wedding night. Now she's ready to start living life for herself. Except King Theodosius of Liesendaach has an offer for her that she can't refuse.
Theo has cared for Moriana for years, but never showed a hint of his true feelings as she was engaged to their mutual friend Casimir. Now that Casimir has broken their engagement, he's ready to offer for her himself. He needs to marry to protect his crown, and Moriana is his choice for queen. But she's quite clear that she's not looking to get right back onto the marriage mart. Theo offers her something else, a chance to touch and kiss him to see if they have any chemistry. If they don't he'll back off. But if they do, he wants her to give serious consideration to marrying him.
Moriana agrees, and their first kiss reveals a deep seated attraction. Theo offers to let her explore her sexual side with him, all while considering a permanent partnership. It's a tempting offer. Will it lead to a life long love affair?
This romance is such a delight! I already had high expectations, having loved Shock Heir for the Crown Prince, and the fictional small European country setting. It's got a little medieval flair with castles and traditions yet is thoroughly modern in tone and characters. I love that Moriana isn't afraid to stand up for herself with her brother King Augustus. And she's the same way with Theo, which just makes him fall more in love with her (even if he won't admit that's what he's feeling).
The dialogue in this story is stellar. There's plenty of banter between the various characters, but there are also some serious, heartfelt discussions. Theo's parents died at the hands of his uncle, and for years he has thought his cousin partly to blame, ruining what was once a deep friendship. When his cousin wants to bring his dying father home, it is Moriana who listens to his concerns and helps him follow the right path for himself and his country.
I've always been a fan of hero in pursuit stories, so Theo stole my heart right from the start. The choices he makes are for Moriana's benefit, not his own, and while he is intent on persuading her to marry him, he's not going to make her do something she doesn't want to do. So he just has to go about convincing her that she does want to marry him after all, and isn't above using sexual satisfaction for his purposes. Their love scenes are sexy and fun, and consent is given on all sides. I found this aspect important and a definite trend in the right direction. While Harlequin Presents novels are known for having dominant alpha male characters, there's no reason these heroes can't also change with the times too.
From start to finish, Convenient Bride for the King is a pure pleasure to read. I can't wait to get my hands on the rest of the series!
Book Info:

Publication: Feb 20, 2018 | Harlequin Presents | Claimed by a King #2
She refused his royal proposal… …but will she let him unlock the passion within?
King Theodosius must find a queen to keep his throne, but his less-than-romantic proposal letter leaves sheltered Princess Moriana cold. So Theo decides to make Moriana an offer she can't refuse–if she'll consider becoming his bride, he'll heat things up by initiating his innocent queen into the pleasures of the marriage bed..