In The First Kiss of Spring by Emily March, when Josh Tarkington and his wheelchair bound dog get stuck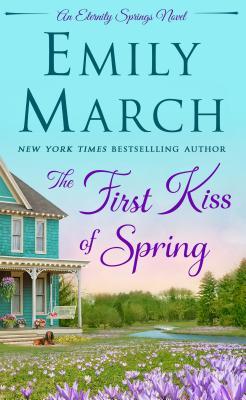 on a gondola with Caitlin Timberlake, there's an instant attraction. But then they go their separate ways. When Caitlin moves to Eternity Springs to be closer to her family, she's surprised to find that Josh lives there, as well. She believes it's a sign they're meant to be together, even though he insists he can't do relationships because he's cursed with bad luck. They agree to be friends with benefits. She doesn't know his past and he plans to keep it that way. But when bad luck strikes again and the truth comes out, will Caitlin be willing to accept who Josh is?
Josh had a rough past and I found myself feeling bad for him. I thought Caitlin was a little rough on him when she discovered the truth about his past. Then Caitlin's father took an immediate dislike to him. His reason, that Josh had spent time as a foster child, was weak, especially because he had been a foster child in the same state Josh had been in. He became a judge, so one would think that would have shown him that people could be successful despite their past. Yet he still shows an incredible dislike for Josh without really knowing him. I wasn't crazy about him, but he himself was going through something so I was willing to give him some leeway. And when he reaches out to help Josh during a difficult time, he managed to redeemed himself.
The story is a fairly light read until Josh's past is revealed. Still, I thought the author handled the subject matter well.
This is the fourteenth book in the series but it can be read as a standalone. I haven't read any of the previous books and had no problems following along with the characters and the storyline. In fact, I enjoyed the book enough to want to go back and read the previous books.
The First Kiss of Spring is well-written with likeable, relatable characters. I'm looking forward to reading more about the people of Eternity Springs.
Book Info:

Publication: February 27, 2018 | St. Martin's Paperbacks | Eternity Springs #14
Spring has come to Eternity Springs in the newest installment in this New York Times bestselling series by Emily March.
When Josh Tarkington gets stuck on a gondola with the lovely Caitlin Timberlake, he thinks his consistently bad luck might have changed.
After their blossoming romance is interrupted, Caitlin realizes that her encounter with Josh was a sign that she needed to make a major life change. So she packs up her things and moves to Eternity Springs, opens a day care, and sets her cap for the town's mechanic—Josh.
But Josh is hiding a well of secrets that would ruin him, and his relationship with everyone in Eternity Springs—especially Caitlin. When tragedy strikes, Josh and Caitlin find themselves, and their relationship, tested beyond imagining. Will they be able to find their way back to each other?