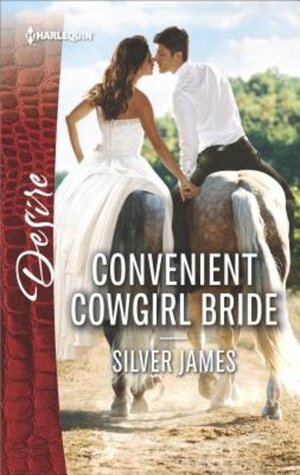 Convenient Cowgirl Bride by Silver James: When you think you don't have a choice left in this world you might just be leading yourself up to the best thing that ever happened to you.
Savannah Wolfe was determined to make everything work. She had made it this far after all. Now with her horse injured and down to her last few dollars was she really considering this insane offer? What was there to gain or really what was there to lose? There was a plan, right? She could work with a plan.
Chasen "Chase" Barron was tired of having things blow up in his face. He was good at his job and he knew he was going to have to be even better if he didn't fall in line with his father's "plans" and he had no intention of that. So yes this plan might have a touch of insanity but it was a plan and he could make it work out to his advantage, right?
Ever heard the saying about best laid plans? Now that Savannah and Chase were in the thick of the "best" plan would they be okay with the fact that the outcome might not be what they had planned?
Wow, that is really all there is to say about this installment of the Barron series. It is a novel that once you start you won't be able to put down. Truly gifted it comes to life right before your eyes allowing you to befriend both Savannah and Chase. It is a part of a series but can be read as a stand-alone novel. It has some heat but more the interaction between characters will have you glued to the page. This is one of those novels where no matter what is said it's hard to write because there is the desire to just go back and reread. Do yourself a favor and pick this one up ASAP.
Book Info:

 Expected publication: October 1st 2016 | Harlequin Desire | Red Dirt Royalty #4
It's a marriage of convenience for this sexy tycoon!
Barron Entertainment CEO Chasen "Chase" Barron needs a wife like he needs a hangover. But when his latest escapades land him in the tabloids, he faces an ultimatum from the Barron family patriarch: pick a wife or one will be picked for him.
That's when perfect stranger Savannah Wolfe shows up, out of the blue, in his bed! It's all a mix-up, but how convenient. The feisty cowgirl fits the bill for a fake wedding. Chase'll help her with her rodeo career if she plays along. But how inconvenient if he falls for Savannah for real in the process…