In Three Amazing Things About You by Jill Mansell, Hallie Kingsley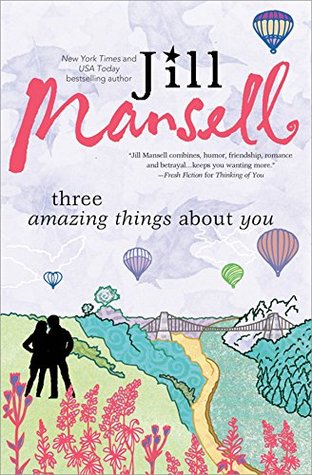 has learned to take each day as it comes and although she has her moments of being down, she strives to remain positive. Hoping for a miracle, a transplant that will cure her of her life-threatening condition, is probably a long shot. But in the meantime, she has a great bunch of friends, a thriving advice column-type website, ThreeThingsAboutYou.com, and unfortunately a crush on her doctor, Luke Hilton. Hallie's resigned herself to the fact that too many things stand in her way of having a relationship with the good doctor. But when life throws her a curve ball, will she be ready to face a new future full of unexpected challenges?
'Imagine if Luke weren't her doctor and liked her as much as she liked him. He would, she instinctively knew, be one of the good guys, the trustworthy kind who would never break your heart and run away.'
Tasha Sykes has been looking for the perfect man with no luck. Just when she thought she'd never find anyone suitable, she meets Rory in the most unglamorous of ways. On the outside they appear to be opposites: she's careful and overthinks everything, and he is an adrenaline junkie. But they just click, somehow. Then events turn their lives upside down and Tasha and Rory have to overcome hurdles that may prove too much for them to bear. At the same time, care assistant Flo falls head over heels for her neighbor across the street, Zander, much to the chagrin of his spoiled sister. One rainy night changes everything in their lives, giving them choices to make that will affect them and others in a dramatic way.
'After all these years of expecting the worst to happen, now it had. And since crumbling wasn't an option, all she could do was face it head on and deal with the situation as best she could.'
There are way more than three amazing things about this book. Actually, too many to count! Jill Mansell has written an absolutely charming tale about several people whose lives all intersected in spectacular and astonishing ways. With her trademark hints of humor and emotional integrity, this proved to be a touching story to remember.
'Don't be sad that it's over, be glad that it happened.'
I adore Jill Mansell's writing style. She has a way of spinning a story that is lush with intriguing characters and filled with their honest reactions. Never has that been more true than with Three Amazing Things About You. I will admit that it took me a little while to get the gist of who each person was and how they related to the story overall (there were a lot of characters) but once I did I couldn't put this book down. I found their individual situations all equally interesting and when they started crossing paths with one another, it made things even more compelling.
This was a blend of triumphs and losses, joy and pain, with our characters each facing their own tough choices and serious issues. But like with all of Mansell's books I've read so far, there was an underlying current of hope, friendship and love that kept things from getting bleak. The little quirky, humorous moments didn't hurt either, of course. Case in point was Hallie. She faced her own mortality dealing with a life-threatening illness but she stayed positive and strong, living her life to the fullest and even giving back by offering her viewers advice on her website. I loved her spirit–and her crush on her doctor, Luke. He was a sweetheart as well who deserved the good things that eventually came his way.
I can't get into a lot of detail about some of the other characters or I'll give away how they all come to be connected in each other's lives. But I thought Mansell did a great job conveying their personalities. I didn't think I'd like Zander at first as he seemed rather posh and like he might have an agenda. He turned out to be a kind guy, though, who cared deeply for those in his life, just like Flo did. Rory and Tasha were an interesting opposites attract kind of a couple who were simply destined to be together. And the other wonderful secondary characters, too many to mention, were all just as important along the way to how things worked out in the end for everyone.
Three Amazing Things About You will make readers go through a slew of emotions but will ultimately make them believe that things happen for a reason. And that the journey is as important as the end result. Highly recommended.
Book Info:

Publication: October 4th 2016 | Sourcebooks Landmark |
Hallie has a secret…doesn't everybody?
Hallie doesn't have long to live. And to make things even more complicated, she's in love with a guy who's seriously out of bounds. She's never going to let him know, of course; she's just going to enjoy every remaining moment of her crush. She's also determined to spend her last months helping those who write into her Dear Rose column with problems of their own. Her doctors can't fix her, but maybe she can fix a few other people's dilemmas before it's too late.
All our lives are full of choices, for better or worse. The amazing thing to see is how connected we all are-in ways we don't even know. On occasion, we have the chance to see the ways we change one another's lives for the better.
Praise for The Unexpected Consequences of Love:
"Mansell's tale of the stirring of love in spite of various heartbreaks and disappointments is a charming and, at times, madcap romantic comedy." – Booklist
Praise for Don't Want to Miss a Thing:
"Utterly charming from the first page, Mansell's engaging tale is as welcome and warming as a cup of tea on a rainy night." -RT Book Reviews, 4 ½ Stars