Cop By Her Side by Janice Kay Johnson: Jane Vahalik is a workaholic who loves her nieces like crazy. It seems like lately those are the only relationships she can get right. Her life as a cop keeps her busy and she seems to have a hard time believing she doesn't need to prove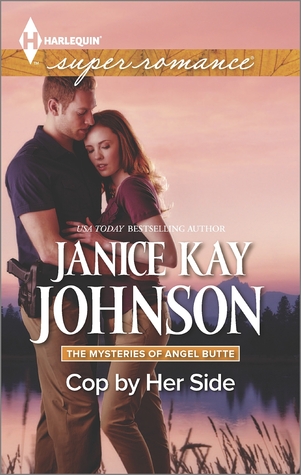 herself to all of her fellow officers.
Clay Renner is a cop and even did some time in the service. His problem, well he is a bit archaic and does not like to see women in nontraditional roles, or does he? He is a good cop though and he knows it. As to relationships, he screwed up his last one by acting like a caveman and with her, well he can't get over it.
When Jane's niece goes missing and there is a whole lot of nothing to go on the only one she wants to help is Clay. Yes he may be a caveman and yes he may have broken her heart but she knows he's the best and all she wants is her niece back. As the days stretch on and as more and more comes out with Jane and Clay end up closer or will there be too much standing in their way.
Ms. Johnson has given her readers a mystery/love story combo with this novel. Exciting enough to not break away for a drink or a bathroom break. This novel kept me enthralled from beginning until the end. While I won't give anything away I can honestly say that though there were points there could have been a little more on the romance side the overall book was just amazing. Ms. Johnson has the ability to keep your attention and as with most good series leave you wanting more. This book can be read as a stand alone but is not the only book in the series. If you enjoy mystery mixed with a bit of romance this is your kind of book.
Book Info:

Expected publication: July 1st 2014 by Harlequin
Does she put her trust in him…again?
Lieutenant Jane Vahalik is done with Sergeant Clay Renner. He messed up their romance when he dished out too much male swagger. She gets enough of that on the job to put up with it in her personal life—regardless of how hot Clay may be.
Then her niece is kidnapped, and suddenly he is the only cop Jane trusts to lead the search. The rush of attraction sizzling between them surprises her. So does his determination to prove she's wrong about him. It could be just the tense situation—or it could be Clay—but Jane's feelings for him are growing. Maybe they deserve a second chance&#133