In Viper's Run (Skulls Creek #1) by Stephanie Tyler, one phone call will change everything. When Calla answers a phone call meant for her PI boss, a man named Cage is dying on the other end. Calla tries to keep him on the line, but he won't let her, and he won't let her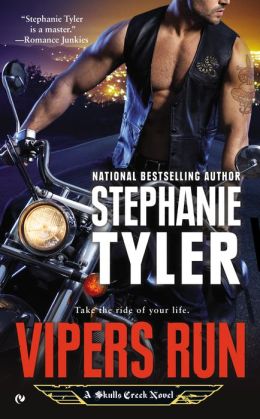 phone for help. Through this brief phone call, Cage promises Calla he won't die, he will come for her, and Calla falls in love.
Suddenly and inexplicably on the run, Calla ends up staying safe at her boss's former army buddy's, who runs some unique and intriguing businesses. She grieves for the man she doesn't really know.
When Cage suddenly shows up very much alive, Calla is angry he didn't come to her sooner, but at the same time he's the first person who's ever made a promise to her and kept it…even if it is a couple of months after the fact. Besides the incredible chemisry between Calla and Cage, she feels safe with him (even as she fights it). When it's time to run again, Calla runs with him.
Cage is a member of an MC and former army. He'll do what he has to do to protect his club and his friends. Even if it means going rogue. With danger and suspense shadowing them, can Cage keep them safe? Both of them are still dealing with secrets and issues in their past…will the instant connection they experienced stay strong enough to see them through? Can Calla be part of Cage's world?
Viper's Run was a difficult story to get into. As I started reading it, I felt like I had been thrown into the middle of something I had no idea about. Pulling the pieces together was a long process, and I never did feel completely satsified. I found it difficult to feel close to the characters, because their backgrounds stayed so vague for so long. There are a lot of underlying family dynamics and secrets in Viper's Run which did add to the mysterious aura of Cage and Calla. Slowly the pieces come together, but I found the pieces a bit too scattered throughout to form a consistantly good feeling for the book. When all was said and done I understood Calla and Cage more, but it took too long to get to that point to be thoroughly enjoyable. The chemistry between them is hot and undeniable, and this really burns off the pages!
Stephanie writes Viper's Run from dual POV's. Calla's is written in first person and Cage's in third person, and this is intriguing and does make the story more dimensional. At times this transitioned well, sometimes it was a bit choppy.
If you are looking for a suspenseful, mysterious, hot read you might enjoy Viper's Run.
Book Info: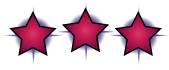 Published July 1st 2014 by Signet | (Skulls Creek #1)
The Vipers Motorcycle Club has strict rules for their brotherhood and the women who enter it. Now one Viper is about to find out how much trouble one woman can be……
Former Army Ranger Christian Cage Owens joined the Vipers Motorcycle Club for its sense of brotherhood. In return, he pledged to live outside the law, protecting club members and their families, as well as keeping other MCs out of Skulls Creek. But when Cage discovers that a rival MC—one Cage has an all too familiar past with—plans to push meth into his town, he calls an old Army buddy turned private investigator who's helped the Vipers in the past. By doing so, Cage endangers both his friend and Calla, a woman who works in the PI's office. Now he's made it his mission to track Calla down and do whatever it takes to protect her.
Thanks to the phone call with Cage, Calla knows she's formed a deep connection to a dangerous man. She quickly discovers that although he may live by a different set of rules, Cage is an honorable man who wants to be more than her protector—if only she can accept his dangerous lifestyle. But Calla comes to Skulls Creek with her own set of secrets…secrets that threaten to tear her and Cage—and the Vipers MC—apart. As they put their newfound love to the ultimate test, Cage will risk everything he cares about to save her……