In Cottage by the Sea by Debbie Macomber, Annie Marlow's entire world crashed to a halt in one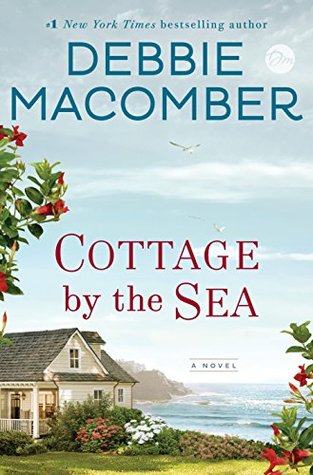 unforgettable tragedy that left her heartbroken and unable to move forward. No matter how hard she tried, she could not get past her grief for months. It was at the urging of her best friend to remember her happy place, to try to get back some semblance of who Annie used to be, that finally broke through the darkness around her. Knowing exactly where she felt the most at ease, she leaves Seattle to take a short trek to Oceanside, hoping it will soothe her aching heart. And that it did. So much so that Annie decides to move there for at least a year to help her get her life back on track.
'The cottage by the sea was the one place she could remember where she'd been completely happy. She didn't know if she would ever find that sense of peace again, but Annie was determined to try.'
Oceanside is a godsend for Annie. The beach, the sea, the pleasant locals. It all goes a long way to making her feel almost normal again. With a new job and a cottage to rent that has ties to her beloved family, she thinks for the first time in over a year that she might just be okay. Meeting Keaton, a local painter and artist doesn't hurt either. He might be a huge, daunting looking guy, but he's the most humble, kindhearted man Annie's ever met. Even though she's not really in a place to start a relationship, Keaton brings stability to her life along with a sense of hope. He's a man of few words, but has deep emotions, and the connection between them brings joy to both their lives. But as Annie's time in Oceanside nears its end, will she find a way to keep her newfound peace–and Keaton–in her life?
'Her face eased into a soft smile. He smiled back. Life hadn't given him a lot of reasons to be happy, but unprecedented joy flooded his soul just for the opportunity to hold her.'
From the most gut-wrenching of losses to the sweetest, most tender of romances, Cottage by the Sea was a stunning standalone novel with an impressive amount of genuine emotion and a completely engaging storyline.
"It took losing those I loved most to wake me up to the fact that life is fragile. I'm not the same person I was back then. Their deaths taught me what's most important. The answer is love."
Debbie Macomber has become a bestselling author and has had her work made into movies for the Hallmark Channel for a very good reason. Her stories have heart, showing us humanity at its best–and at times, its worst. The plots are something we can all relate to in some way. But it's the characters, with their flaws and personal struggles to overcome, that always captures and holds my attention. And in Cottage by the Sea, the quirky cast took me on an emotional adventure I was certainly not expecting. But I loved every minute I spent with them.
Annie Marlow was our main character and boy will it break readers' hearts when they learn of the tragedy that struck her family. It was an unimaginable loss (based on a true event) that sent our heroine reeling emotionally. I felt like Macomber handled Annie's grief and her depression realistically and sent her on a journey that could actually happen in real life. I adored how giving, smart, and compassionate she was. Qualities that helped Annie immensely in her career in medicine, and with the people she met and befriended in Oceanside. The addition of locals Keaton, Mellie, and Preston to her life not only made a huge impact but gave Annie a sense of purpose and hope, having found friendship–and love–in her darkest of days.
Keaton is a hero I think readers will fall for right away. A gentle giant, he was thoughtful, courageous, and oh-so kind. I did get frustrated when he pushed Annie away at a few points when it was clear they were meant to be together. But we learned that Keaton didn't grow up with much, if any, love in his life. So it was tough for him to believe that the woman of his dreams would choose him. His friends Mellie and Preston were a hoot together and had their own subplot going on with a romance simmering between them. I loved the many scenes where all four of them were interacting. You never knew if it would be a heart-wrenching look at one of their pasts, a comical bunch of bantering, or a touching scene that showed their special connection to one another. Regardless, it gave me the warm & fuzzies and kept me entertained.
A book of healing, filled with a soul-searching heroine who rebuilt her life one day at a time, Debbie Macomber has outdone herself with Cottage by the Sea. I seriously couldn't put this story down and I have a feeling that fans of both women's fiction and romance will add this to their keeper shelves as well.
Book Info:

Publication: Published July 17th 2018 | Ballantine Books |
A seaside town helps one young woman rediscover hope and healing in a brand-new novel from #1 New York Times bestselling author Debbie Macomber.
After tragedy strikes, Annie moves in to the summer cottage where her family vacationed when she was a child. Soon Annie finds herself making new friends, even developing a romance with a quiet and mysterious painter. And as she becomes part of the community, Annie learns that the surest way to heal is by making a difference in the lives of those around her.