In Covet by Tracey Garvis-Graves, Claire Canton thought her marriage to her husband Chris was so rock solid that nothing could tear it apart. They are the quintessential American family with two rambunctious kids, a dog and a beautiful house. Claire works from home freelancing in graphic design and Chris is a sales manager for a software design firm. Or at least he was a manager, until the company downsized and had to close its doors. They buckle down cutting out some of their expenses and have every reason to expect Chris will get another job before too long. Several months later, Chris will barely speak to Claire and is growing more and more distant.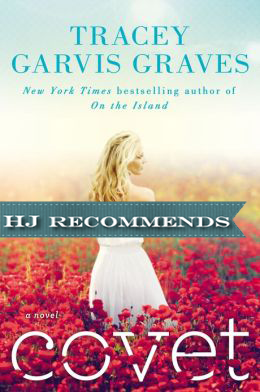 He rarely sleeps or eats and she's worried he has become depressed. She urges him to see a doctor about it and reluctantly he does. Chris finally seems like himself again thanks to medication and a callback on a job interview. Claire hopes their prayers are answered when he gets the job until he explains he'll be traveling extensively. She's not sure their tenuous relationship can handle the added stress, but she knows he needs to get back to work to feel like he's contributing again.
'I set the phone on the nightstand and take a deep breath. There's a man downstairs who has every right to be in this bed with me, but he isn't interested. And there's a man who doesn't have any right at all, yet he sounds as though he'd give just about anything for the opportunity. I have never felt more alone.'
Claire and the kids settle into a routine while Chris is away but she continues to feel so lonely she can hardly stand it. She keeps thinking about the handsome police officer, Daniel Rush, that pulled her over for a broken taillight a short while ago. She spots him again at a Fourth of July celebration and they strike up a conversation where he offers to help with a speeding problem in her neighborhood. A very short while later he presents a new speeding sign for her street and she ends up with a potential freelance project designing a new logo for his police force. Claire is surprised by her reaction to Daniel and the anticipation she feels when she knows he'll be calling or emailing. They keep in contact, always dancing around the obvious attraction they feel and keep things platonic. Claire is confused in her relationship with Chris, wanting to feel close to him as they always have been in the past but their conversations are strictly about the kids and schedules. She feels a connection with Daniel, like he truly enjoys talking to her and simply wants to know more about her.
'Maybe that's how it starts. You stumble upon something that helps you cope, fills a void. Makes you feel something different than what you currently feel. You know in the long run it probably won't be good for you, but you do it anyway. Tell yourself you can handle it. And before you know it you're in so deep that you can't find your way back out.'
Life carries on with Chris constantly traveling and actually away from home for longer periods of time. He's completely focused on the kids when he is home and Claire feels like he's not even trying to show her any attention or affection. She's scared that he's stopped loving her. Things intensify with Daniel. She talks with him on the phone most nights and they text and go for motorcycle rides. She spends time at his home relaxing with him, they go to lunch or dinner together. He's a gentleman, though, and lets Claire decide how far she's willing to push the limits of her strained marriage. Daniel is certainly hoping for more but is willing to just be her friend and confidant if it means he can spend time with her. A family crisis pulls Chris off the road for a short while and Claire realizes how things would appear to her husband should he find out. Even though she and Daniel have never really crossed the line from friendship to lovers, she knows if she were in her husband's place, she would not be comfortable with the situation. She has to figure out if she should end her friendship with Daniel so she can be fully present in her marriage, or if there is too much damage done already to salvage what she and Chris had together.
Covet is a novel that delves into forbidden emotions with blunt honesty. Tracey Garvis-Graves did great job capturing the longing Claire felt for a connection with her husband. She missed not only the intimacy their relationship was lacking, but also the comfort of having a partner, a friend to turn to and unwind with after a tough day. Which was where Daniel stepped in. It was interesting as a reader to have glimpses into Chris and Daniel's pov's scattered throughout the story. I found it almost comforting in some ways to read about Chris's true feelings, even though he didn't feel like he could communicate them to his wife. If you are a fan of heart-wrenching romances with a writing style reminiscent of Roxanne St Claire or Susan Wiggs, definitely check out Covet.
Book Info

Publisher: Penguin Group (USA) | Publication date: 9/17/2013
What if the life you wanted, and the woman you fell in love with, belonged to someone else?
Chris and Claire Canton's marriage is on life support. Downsized during the recession and out of work for a year, Chris copes by retreating to a dark place where no one can reach him, not even Claire. When he's offered a position that will keep him away from home four nights a week, he dismisses Claire's concern that time apart could be the one thing their fragile union can't weather. Their suburban life may look idyllic on the outside, but Claire has never felt so disconnected from Chris, or so lonely.
Local police officer Daniel Rush used to have it all, but now he goes home to an empty house every night. He pulls Claire over during a routine traffic stop, and they run into each other again at the 4th of July parade. When Claire is hired to do some graphic design work for the police department, her friendship with Daniel grows, and soon they're spending hours together.
Claire loves the way Daniel makes her feel, and the way his face lights up when she walks into the room. Daniel knows that Claire's marital status means their relationship will never be anything other than platonic. But it doesn't take long before Claire and Daniel are in way over their heads, and skating close to the line that Claire has sworn she'll never cross.