Unscrupulous (The Manhattanites #2) by Avery Aster, Fabulous redhead Tabitha "Taddy Brill" Brillford runs her Fortune 500 company like clockwork. A true Manhattanite at heart, she loves to party with her socialite bff's, covets the latest couture, makes millions…and all before she turns thirty. With a hunger to take Brill Inc worldwide, Taddy often works around the clock making connections and building her clientele. It can take a toll on a girl's sex life. She finally takes some time off during the holidays, heading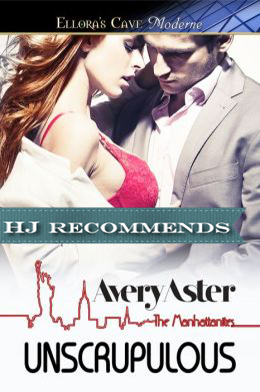 to a tropical locale with Lex and Vive, hoping to find a hunkalicious man to occupy her nights. She finds an intriguing man worthy of the nickname Big Daddy she dubs him with at an exclusive island bar. But just as things are heating up and he proves he can push all the right buttons, her mystery man flakes out.
'Warner's lips returned to where they left off. His tongue didn't ask for permission entering. It didn't tickle, lick or dance. With one deep–intense–plunge, his kiss spoke in silence and declared, "I have you."
Taddy's back in Manhattan, making her millions before long and makes a pact with her friends to concentrate solely on business in the upcoming new year, putting men on the back burner. Easier said than done. She thinks occasionally of her attempted island tryst and wonders if Big Daddy ever got his life straightened out. Taddy gets her answer when she runs into him months later during a PR snafu for his luxury hotel chain. Warner Truman, as he turns out to be, can use Brill Inc's help. She's more than willing to take on such a high profile client, but she's not sure she can give him what he wants emotionally. Taddy is not one to have relationships or fall in love. Warner, on the other hand, is convinced that she is ready to make that leap and let the walls around her heart finally fall.
'He needed this as much as she did. Taddy could tell his body hungered for hers. She wondered for a split second if his soul was as starved for love as hers was.'
Billionaire Warner Truman is a self-made man and damn proud of his accomplishments. His only complaint is he no longer has anyone to share his wealth, and most importantly, his love with after the death of his wife. Warner was not expecting to find the woman of his dreams in his own island club while on a holiday work-cation. The gorgeous woman who gave her name only as Red was almost his until a mistake from his past came back to haunt him. Months go by and Warner has hunted the world over for his Red while on business to no avail. What starts off as a business nightmare turns out to be a godsend as it brings her back into his life. Warner will not let Taddy get away this time before exploring the attraction he has to her. She is just as hot for him but she freezes when he hints at taking things further. But Warner won't give up until he can call Red his own.
'Warner sensed Taddy had depth, but not like this. Underneath those designer clothes was a woman who had a big heart. "You're quite remarkable."
So. Much. Fun!! Unscrupulous is a prequel to book one, Undressed, in the Manhattanites series, focusing this time on Taddy. Avery Aster's writing style is still just as flirty, raunchy and comical as ever, but it felt like there was also a bit more depth of emotions to Taddy and Warner's story. Maybe it was simply learning about Taddy's heartbreaking childhood or even in Warner's devotion to his previous wife. Whatever it is, I hope it continues in book three which I hear will (hopefully) be Blake's story. The chapter titles cracked me up yet again, as did Taddy's nickname for Warner: Big Daddy. Indeed. 😉 I highly recommend Unscrupulous if you're looking for sexy erotic romance that will set the pages on fire, make you laugh, yet still has a wonderfully complex plot. Nicely done, Avery.
Book Info:

Published August 14th 2013 by Ellora's Cave Publishing Inc.
At thirty-three Warner Truman is one of the richest men on the planet, a spa mogul who buys and sells resorts at will. He holds powerful executive's careers in his well-groomed hands. Nothing is beyond Warner's reach…until he meets her.
Stunning, tantalizing, and perverse, Taddy Brill captivates Warner's carnal desire like no woman he's ever met. A self-made millionaire, Taddy is tougher than steel, more brilliant than diamonds and, at twenty-seven, she's never depended on a man for anything…until she meets him.
The more Taddy plays with Warner's affections, driving him to erotic heights, the more she is confronted by a dark past. But before she can love him, Taddy must meet her worst fears head-on or risk losing it all, including herself.
A Romantica® contemporary erotic romance from Ellora's Cave
Add to: Goodreads.