Finding Justice by Rachel Brimble: Cat Forrester is a Sergeant with a mission. Ever since her father was killed by a drunk driver, she's wanted to take down criminals who kill people that have a lot of life ahead of them. But while her mother tries to drink away her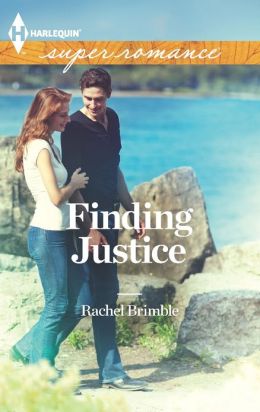 sorrow, she's barely got her head above water most days.
Enter one of her two best friends, Jay Garrett. He calls to give her awful news – that their old co-hort has been murdered, and he's one of the suspects. Even though they've not seen each other in seven years, he still knows he can count on her. And he also knows she'll want to help bring closure to the death of a woman that had once been so close.
Both Jay and Cat have secrets. Secrets that could come between them. Jay would like to have a second chance with the woman to which he compares all other women, and Cat wouldn't mind reconnecting with him and a town that meant so much to her when her life was simpler. In order to do that, they have to work together to clear his name and find their friend's real killer.
The memories of their one night together haunt both of them, and clearly their attraction is as strong as ever even with those years behind them. Can they get past their issues to see that they belong together?
I have to say, the description of this story really intrigued me. I would've liked to love it, but I just didn't. It's not that it was written poorly – in fact, it was pretty good in that regard. I found it to be slightly too melodramatic for my taste. And for characters of their ages, they seemed to over-react quite a lot. Also, Jay outright lied to Cat, and I still can't figure out why. I understand why he wasn't forthcoming to the local police, but he should've just explained everything up front to his old friend and lover.
I also think that Cat would've resisted Jay until the case was solved, or remove herself from the investigation if the situation was realistic, but yeah – I forgive that, because it's fiction. Overall, it was a decent book with some stuff that kinda made me scratch my head.
Book Info

Publisher: Harlequin (February 5, 2013): Harlequin Super Romance Series #1835
Old friends, new secrets
Sergeant Cat Forrester lives by her own set of rules. When her childhood friend is murdered, Cat's world is thrown into chaos. Especially because Jay Garrett—a man from her past—is a suspect, and he needs her help to prove he's innocent. After all they once shared, how can she say no?
The attraction flares between them, and getting involved with a suspect is a huge risk. But the more time Cat spends with Jay, the stronger the tug on her heart. He is the same caring, irresistible man she remembers. Yet she can't let her emotions interfere with the case—solving it is top priority. And as she digs deeper, she discovers Jay has secrets that may jeopardize any possible future together.