Cowboy Christmas Homecoming by June Faver is book #4 in her Dark Horse Cowboys series. Once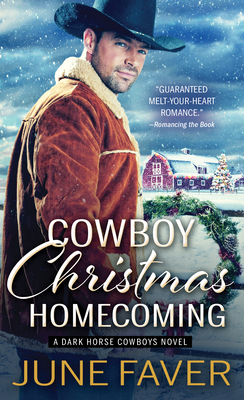 again this author tells an emotional, fun and sexy story.
Zach Garrett, ex-Army Ranger, returns home to Langston, Texas invited to spend Christmas at his uncle's ranch. His uncle, Big Jim considers his nephew Zach as much a son as his own. Zach's mother moved to Ft. Worth following the sale of the family ranch after Zach's father died. Zach feels rather adrift following his release from the Army until he enters Big Jim's ranch house and sees Stephanie Gayle. Two sets of eyes light up. Stephanie is a firefighter and EMT, an independent woman. She definitely appreciates the view in front of her. As she is leaving the ranch house the wheels start turning. "I wonder if…" A couple days later Stephanie works up the courage to call Zach to ask him to escort her to a fundraiser Christmas dance. Zach is eager to go and spend time with the beautiful firefighter. Zach and Stephanie just sort of fall into a relationship from that point on. Not that their road to a HEA isn't strewn with danger and other obatacles.
The storyline is fast-paced with action and scenes to hold the reader's attention. The characters are realistic and quite likeable. It was fun to be reunited with Big Jim, the Garrett brothers and their significant others, kids and pets. Big Jim's role is prominent again and I just love his generosity and big heart. He sure is having a great time being a loving grandfather. The dialogue in this story is fun and just right for the personalities of the characters. The warmth and activities that occur epitomize the Garrett family Christmas.
This story makes for a cheery read that generates a Christmas holiday spirit. I love Christmas romances and this one will be added as a favorite to reread.
Book Info:

Publication: September 24th 2019 | Sourcebooks Casablanca | Dark Horse Cowboys #4
This cowboy's finally coming home for Christmas
Zach Garrett is home from war, haunted by PTSD, trying to fit in to what has become an alien world. With the holidays fast approaching, his uncle Big Jim Garrett offers him a place on the family ranch. Zach isn't sure he's up for a noisy, boisterous Garrett Christmas…until he meets beautiful Stephanie Gale, and all his protests go up in flames.
Firefighter and EMT Stephanie Gale is ready for anything. She's got her life under control…until she locks eyes with Zack and realizes her heart's in a whole new kind of danger. But with a little help from Zack's long-lost army dog, maybe he and Stephanie will be able to make this a Christmas of new beginnings after all.
Dark Horse Cowboys series:
Do or Die Cowboy (Book 1)
Hot Target Cowboy (Book 2)
When to Call a Cowboy (Book 3)
Cowboy Christmas Gold (Book 4)
Praise for Do or Die Cowboy:
"Guaranteed melt-your-heart romance."–Romancing the Book
"Heartwarming…a very entertaining story with some surprises."–Harlequin Junkie