In Cowboy in the Making by Julie Benson, Emma Donovan ran off to Nashville to make a career as a country music star. But things didn't go quite as well when her boyfriend started sleeping with another girl, broke up with her and stole the song they wrote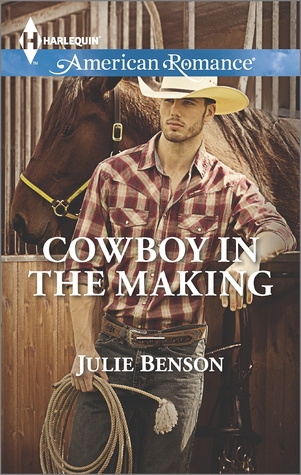 together just so he could get to the top. Now she is back home in Colorado trying to work her way to the top more honestly then her ex did.
Jamie Westland never felt at home with his adopted family who are more of a mathematical and science focused people, and he was the only one in his family inclined to music. When he was younger he tried to get in touch with his birth mother only to be denied by her. The only consolation was that he found his grandfather and found the reason behind why he loves music so much.
He spent a few summers with his grandfather and met Emma when they were both younger. Only he went to study music and got a big career in a symphony in New York, while she went to try and find her luck in Nashville and country music. Now after his career is in danger, he can no longer stand the pity or questions from his friends and family. The only place he can think of that will not keep questioning him is in Colorado with his grandfather. So he decides to go there until he can figure out if he can get back to the symphony or if his career is forever lost to him.
What neither Emma nor Jamie expected was to have to matchmaking grandfathers that will do their best to get them together every chance they can, and will try convince the other to play together. Which of course neither wants, but when the band is delayed and the place will get rowdy if they don't have music soon, Emma and Jamie are steered by Jamie's grandfather to perform together. Something that will become a huge hit and will be the beginning of something more meaningful for them both.
But before Emma and Jamie get the happiness they both deserve, first they will have to face some things of the past and the possibility of separation if the symphony decides to give Jamie another chance as he has been improving a lot since his accident. Big decisions will have to be made by them both, and only if they think and follow their hearts will they be able to have what they truly want deep inside.
If you want a sweet and fun read, don't miss Cowboy in the Making by Julie Benson.
Book Info:

Published September 2nd 2014 by Harlequin
Emma Donovan ran off to Nashville when she was young and full of dreams. Now she's back home in Colorado with a little more common sense. And that sense is telling her not to count on Jamie Westland. He won't be around long—not with his big-time career in New York City.
Jamie's never felt at home, not with his adopted family, not with himself. Now, on his grandfather's ranch, the pieces of his life are coming together in a way that feels right. And Emma has so much to do with it. But when an opportunity comes along back in New York, he has to decide between his old life and the promise of a new one…with Emma.