Cowboy, It's Cold Outside by Katherine Garbera: Lucy DeMarco wasn't sure who she was any more. How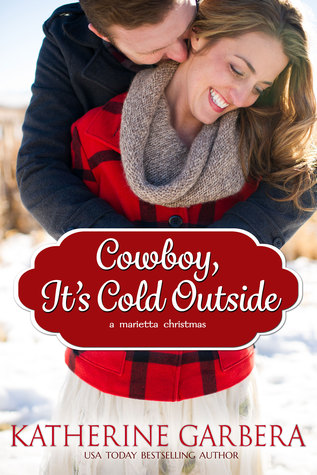 could her father do this to her? Moments before he dies he turns her entire world upside down. Now she's starting over, she's in Marietta and it's Christmas time. Determined to move forward that's exactly what she's doing moving forward.
Trey Scott has traveled the world as a photographer. He has been places others have only dreamed about and seen things that are only nightmare worthy. Marietta still calls him home though and almost every single Christmas he ends up back here with his family. Will this home finally hook him this Christmas or will he leave just like the old year on New Year's Day?
When Trey and Lucy end up stranded without power they realize that there are enough sparks between them to keep them warm at night. As Lucy begins to dig herself out of her grief can Trey help her see the woman he sees? Can Lucy become the anchor that he needs to stay home? At Christmas anything can happen and in Marietta there is always room for family.
Ms. Garbera has taken us back to Marietta and the Scott brothers, yes this is part of a series though it can be read alone, and let me tell you this was worth the trip. The chemistry between Trey and Lucy is palpable. The writing style slips you into the story with an ease not easily achived in such a short amount of pages. If you are interested in a quick romance with some sweet heat this is right up your alley.
Book Info:

Published November 7th 2014 by Tule Publishing
Photo journalist Trey Scott comes back to Marietta for Christmas, only to find no one home… except for the enchanting Lucy DeMarco. Although Lucy isn't crazy about the holidays, Trey does his best to restore her enthusiasm, starting with nestling her snug in his bed. But if he's only in town until New Year's…