Southern Comforts by Nan Dixon: Abigail, Abby, Fitzgerald was one of a kind, a strong determined young lady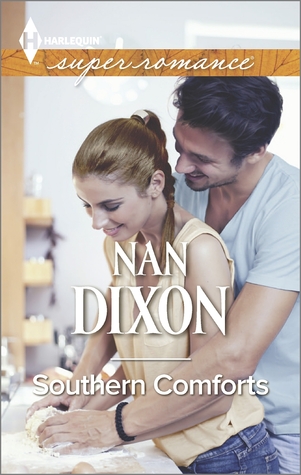 who was not going to let anyone, specifically any man, deter her dreams. Her father had created massive debts for her family and her fiancé well he is better off forgotten. So she was home now to run her family's B&B with her sisters while her mom was helping out her aunt. In addition to running the place though they had started renovations and thinking about things like a kitchen where Abby could show off her skills. It was going to be a beautiful place.
Grayson, Gray, Symthe had six months in Savannah to get this condo renovation done. For six months he would oversee construction and renovation and attempt to figure out what he wanted out of life. Money wasn't a problem at least not the lack of it, perhaps the over abundance was though. He had six months to figure it out and to let the Savannah heat warm his Boston blood.
When Gray checks into Abby's B&B for six months all plans start to melt with the heat the two put off. It's not quite that simple though as he is Abby's client and that is not something she wants to do and she has some money problems with make Gray a little nervous. Add to that a new maid who is running from something with an adorable son who has everyone smiling and who knows what these six months will hold. Will Gray and Abby be able to stand the heat or will they both need to get out of the kitchen and fast?
Southern Comforts is the name of the restaurant Abby wants to open but does apply to the story in more ways than that. Ms. Dixon has given her readers an actual story with a fantastic line with two people who might as well be blind to themselves for as well as they see the other. There is love to share and while there are a couple of minor twists and a couple of OMG's thrown in for good measure it is such a feel good you will be wondering where Ms. Dixon has been and where the next novel is, perhaps more for the sisters? This is a great read for someone who likes a bit of meat to their story and love in their eyes.
Book Info:

Published December 2014 by Harlequin SuperRomance
Rule #2–Never get involved with a guest
Abigail Fitzgerald has always followed her mama's rules when it comes to running their family's B and B. But her mama never had to resist a man like Grayson Smythe. A long-term guest, Gray spends his evenings having dinner with Abby in her kitchen–and it's not long before their attraction begins to sizzle.
Although Gray's kisses are a delicious distraction, Abby's priorities are the B and B and the dream of opening her own restaurant. And Gray definitely has the means to help her. But when money seems to be all he can offer, Abby suspects she might get burned.