It's been quite a while since I've read a book that I just didn't like. Unfortunately, I found one more. But just because I didn't like doesn't mean that you won't. So with that in mind, let's check out Crash Landing by Lori Wilde.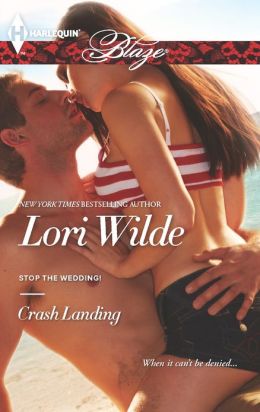 The first character we meet is Sophia. I tried really hard to like her, I did. In theory, she sounds like my kind of heroine. She's a pilot and owns her own business. She flies tourists on and off the island where she lives since it's only accessible by small bush planes. She loves flying and she truly appreciates that she gets to do what she loves for a living. She also seems to be a genuinely happy person and enjoys living on the island where she grew up and enjoys having family around. What's not to like? But she also seemed really shallow, too. Like, she saw this hot guy on a balcony and she gets up out of the hammock she was laying in and seductively stretched and tossed her hair around and I just thought it was a little over the top. It made her seem…kind of bitchy and full of herself. But that was just the very beginning…
The hot guy on the balcony happened to be Gibb Martin, a billionaire venture capitalist type. He's come to the island because he's been the victim of corporate espionage with people stealing his ideas and getting them to market before he can. But here, on the island, no one can get near without it being noticed. Everything changes, though, when Gibb gets a phone call informing him that his best friend intends to marry someone that he's only known for about a month. Gibb wants to save his friend from a mistake so he tasks Sophia with flying him to Miami. I liked Gibb. He's worked like a dog to make his money and to get where he is. Even though he's already done so much, he's STILL working hard. Also, he clearly loves his friends and is willing to do some crazy stuff to try and protect them. Having said that, I don't know that we get a really clear picture of exactly who Gibb is before he and Sophia get together.
Gibb and Sophia are hot together but would you expect anything less? But I never found myself rooting for them to get together. When Sophia finds out what Gibb's super secret project is, she throws a fit because it could potentially put her out of business… years down the line. And then when Gibb tries to make her feel better by giving her some possible solutions if she did lose too much business, she throws another fit saying that he's trying to throw money at a problem like always. Like always? Because she's known him so long?? It just solidified my opinion that Sophia was shallow. Nevermind the fact that Gibb's plan will be a benefit to the environment and a benefit for the island in general (by boosting tourism, the island's main source of income). No, all that matters is how it affects Sophia personally. Sure, she sees that her initial reaction was not a good one and she tries to see the benefits but for me, it was too late. Then it got weird for me when Sophia sees Gibb pleasuring himself in a waterfall and she starts pleasuring herself too. Huh? Maybe it would have been hot if I had liked these two characters more, but I didn't particularly like them so it just seemed a little ridiculous. I mean, hey, who am I to tell someone to NOT touch their own naughty bits?! But that scene was just too much.
I hate to give ANY book a low rating because all of this is so subjective. Just because I don't like it… what the heck do I know?? Most days, I'm happy if I have matching socks on, ya know what I mean? If I love a book, I'll scream it from a mountaintop and I'll bug your ass until you try it. But if I don't love a book, I like to quietly just return it to the library or delete it off my Kindle.
Unfortunately, I think Sara would have my head if I wasn't honest so here I am, telling you about a not-so-hot book. But I think that all of the Harlequin Junkie readers know how to take a negative review so I try to give you a little bit of what the book is about and tell you the things I didn't like and you can take it from there. I, for one, did not like this book and would not recommend it but don't just take my word for it.
Feel free to read it and tell me what you DID like about it!! 🙂
Book Info
Publication Date: March 19, 2013 | Series: Harlequin Blaze (Book 745)
Stranded!
Billionaire Gibb Martin loves risk almost as much as he loves a well-made suit. But when his business partner and longtime friend suddenly bails on a major venture to get married…well, that's one risk Gibb isn't willing to take. Now he just needs to charter a plane to Florida so he can stop the wedding—fast!Normally, bombshell pilot Sophia Cruz would have told Slick City Boy exactly where to go. Unfortunately, she really needs cash—even if it does come from an overprivileged guy with a very fine backside. But then disaster strikes midair, and Sophia is forced to crash-land the plane….
Now they're alone on a stunning deserted island—and surrounded by temptation. And this is one collision they won't be able to walk away from!