In Crashing the A-List by Summer Heacock Clara Montgomery has come to the realization that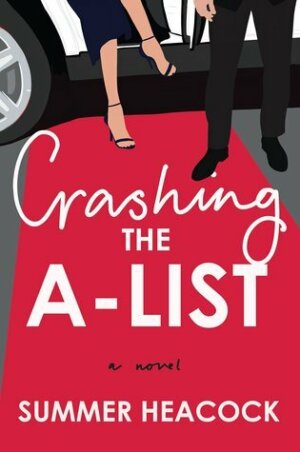 unemployment doesn't suit her well. At all. She'd rather be stressed out to the point of a nervous breakdown as long as it means she'd still have her editor job at a NYC publishing house. But, alas, Clara is currently jobless, homeless, camped out on her younger brother's God-awful couch (aka Gertrude), and watching her savings dwindle away. When she's offered a job cleaning out a bunch of local storage units for a lump sum, who is Clara to turn it down? At least it will give her some much needed cash while she continues her job hunt in editing.
"You could seriously sell this, though. So much money! A pretty new apartment! Your real bed that isn't a hideous corduroy couch!"
My bed. God, how I miss beds. I can't think of many things I wouldn't be willing to do for the joyful comfort of my real, live mattress.
But could I live with myself if I ruined another person's life just to better my own?
Between the gross smells, the crazy things people save, and the unwanted intrusion of critters of all kinds, Clara is honestly a tad freaked out about the storage units. But she buckles down to get the job done as efficiently as possible, with even her BFF CiCi tagging along to help on occasion. When they uncover what appears to be bios from an escort service from several years ago, Clara is shocked to see the (much younger) face of a now famous British actor in the midst. Even though CiCi tries to get her to sell the picture and info to gossip rags, she's not sure Caspian Tiddleswich deserves it. Until Clara meets him. Then the gloves come off and it's an all-out war. Especially when she gets blackmailed by the handsome rogue. But things aren't what they seem–and she's not quite sure how she wants things to end when the truth finally comes out.
'I think I might have to face some facts, here.
I know Caspian and I agreed that our mutual hatred had come to an end, but at some point, I seem to have shifted over into…actually liking him.'
Uproariously funny while still having a good dose of emotional depth, Crashing the A-List was a fake romance, enemies-to-lovers romcom–a modern take on Pride and Prejudice, actually–that will delight and entertain readers from page one.
"Do you realize how absurd this is? You're trying to let me off a hook I don't want to be let off, and I'm trying to delicately beg you to not walk away from the idea of us being an actual us."
I stare at him for a really, really long time, breathing slowly. "I think we might need to work on our communication skills."
I think I've found a new writer to stalk, er–I mean follow! (lol) Summer Heacock is a new-to-me author who has so far written two novels: Crashing the A-List and her debut, The Awkward Path to Getting Lucky. And after reading the A-List, guffawing my way through it and falling in love with not on the characters but Heacock's writing voice as well, I'm definitely going back to read her debut. Soon. The only way I can truly explain her writing is that the level of humor, heart and lively dialogue reminds me of a mix of Molly Harper, Jill Shalvis, and Susan Elizabeth Phillips. And I adored every second of getting to know Heacock's work here.
Our heroine Clara was ridiculously fun, witty, and simply charming. She was at a low, low point in her life, having lost her job, her apartment, her self esteem along the way, and resorted to living on her younger brother's uncomfortable couch (which she named Gertrude) until she found a job. It was comical and at times a little sad to watch Clara go from a job editing books to cleaning out storage units. But I liked her can-do attitude and the fact that she didn't want to mooch off her family and friends–aside from staying with her brother. Clara was quirky, with her love of Marvel characters and Doctor Who and her penchant for naming inanimate objects (Gertrude, a truck named Brutus, another couch named Jasmine…). But I thought it worked perfectly for her: a single, bookish thirty-year-old woman who lived in NYC.
It was when Clara found the years-old information about superstar British actor Caspian Tiddleswich that it all went even further awry and the fireworks began. At first there was animosity, miscommunication, a lack of trust and just bad feelings all around. I couldn't make my mind up about our hero at all–whether he was the bad guy he seemed to be or if it was an act. But I loved it when Cas and Clara started to come to an understanding and we got to see their true personalities, their feelings, and how fun they were together. I will admit to being mad at Cas a few times. The ending totally made up for it, though, with a grand gesture to rival a romcom movie that had me laughing and swooning alternately.
Crashing the A-List is a must-read this summer for fans of romance with snarky humor and heart, and where friendship as well as family plays a big part in the heroine's personal journey.
Book Info:

Publication:  July 2nd 2019 | MIRA |
After four months of unemployment, former book editor Clara Montgomery is still stuck sleeping on her little brother's ugly couch in Queens. Determined to keep her minuscule savings account intact, she takes a job clearing out abandoned storage units, but is in no way prepared for stumbling upon dead snakes or trying to identify exactly where the perpetual stench of beets is emanating from.
When Clara comes across a unit that was once owned by an escort service, she finds the brothel "résumé" of a younger Caspian Tiddleswich… an astonishingly famous British actor. Her best friend thinks she should sell the gossip to a tabloid to fund her way off the couch from hell, but Clara instead manages to track down Caspian's contact info, intending to reassure him that her lips are sealed.
Unfortunately, Caspian misinterprets Clara's attempt at altruism and shows up on her doorstep, accusing her of blackmail. When the paparazzi capture a photo of them together, Caspian's PR team sees an opportunity to promote his latest film—and if Clara wants to atone for her "crimes," she'll have to play along. Pretending to be Caspian's girlfriend seems like it will be a tolerable, if somewhat daunting, penance… until their fake romance becomes something more than either of them expected.