It's Not You It's Him by Sophie Ranald: Tansy may have made a new life for herself in London and working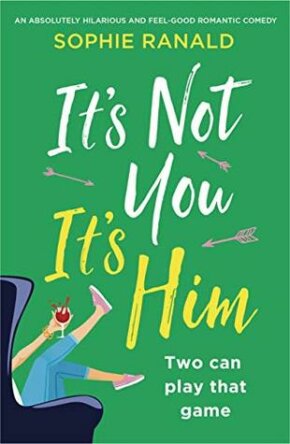 as a fashion buyer, but she can't quite leave her past, baggage, and family behind. She's persistent, determined, and always willing to help her family. It's a new year and Tansy is absolutely determined to get her ex-boyfriend Renzo back. Despite a terrible break-up, she develops a plan that will get him back.
There are number of changes for Tansy as she makes new friends, gets new opportunities, and ends up with a new roommate who is also a blast from her past. Between learning a lot more about Tansy's past, the key high school years that shaped her, and relationship with Renzo leading up to the break-up, you get a chance to understand Tansy and why she's so obsessed with her ex.
'…I don't think I've ever known him to change his mind about anything. Ever.'
'He's going to change his mind about me, though,' I insisted. 'I'm going to make sure of it. He's the love of my life and I'm not going to let him be the one who got away.'
Tansy learns a lot about herself as she creates and puts into motion new plans to catch Renzo's attention. Things don't exactly go as planned, in many ways, but she's not easily deterred. Before long both her roommates get involved in her schemes, whether or not they know it, with interesting outcomes.
'That's about three kilometres,' Josh said. 'Enough for your first time, I reckon, unless you'd like to go round again?'
My pride said yet, but my legs definitely said no. 'Let's head home.'
'Sure,' he said, and turned back out through the gate. I managed to stay alongside him all the way to the end of the road, when he said, 'Sprint finish? Come on, I'll race you to the door.'
It's Not You It's Him is the unintentional journey to finding yourself after heartbreak. Sophie Ranald provided conflict, angst, heartbreak, surprises, and healing. Ms. Ranald brings back the characters from Sorry Not Sorry along with entertaining new additions and the neighbor's cat, Freezer. Fans of Belinda Missen and Tamra Baumann will enjoy It's Not You It's Him.
Book Info:

Publication: Published June 18th 2019 | Bookouture |
New Year's Eve. The most overrated night of the year, right? I have to get through a night of enforced fun, drink all the prosecco and talk about new beginnings. But I don't want new beginnings. I want my old beginning back.
It's been ten days, two hours and forty-three minutes since Tansy got dumped. Two heartbreaking weeks since Renzo, who made her weak at the knees and dizzy with excitement, found out Tansy's secret – and ended it on the spot.
Since then, she's spent every evening scrolling through their old photos, drunk texted him twenty-six times (he stopped reading after five), and lost count of how many packets of Kleenex she's cried her way through.
That's where Operation Get Renzo Back comes in. She ropes in a new wing-woman, maxes out her credit card and accidentally-on-purpose bumps into him at every opportunity. Oh, and she finds a fake boyfriend, as you do…
But while she's busy pretending, Tansy's plan is thrown a major curveball. She has to learn the hard way that it's not her, it's him – and that sometimes, a break-up can end up being the making of you.
A fresh, funny and fabulous novel for anyone who has been dumped, got a post-break-up haircut, stalked an ex on Facebook, and then realised they were WAY better off without them. Fans of Sophie Kinsella, Lindsey Kelk and Matt Dunn will love this laugh-out-loud read.