Crazy Love by Nicola Marsh is a feel-good romantic story with some really fun matchmakers.
Sierra Kent is the owner of Love Byte the most sought after Internet dating agency but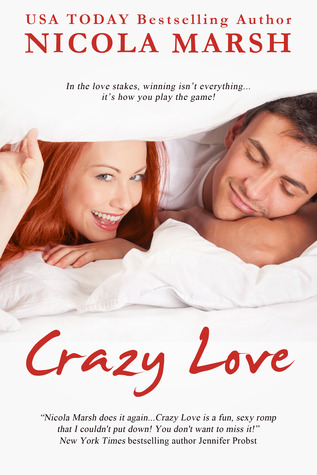 while she enjoys matchmaking other people she doesn't do love herself, for she does not trust her instincts or her emotions.
Marc Fairley is CEO of LA's premier acquisition company LA-Corp, and he doesn't have time for Love. All is interested in is finding the person who setup his mother with some rancher, convincing his mother that she is not in love and getting her and himself back to LA to his job.
What he doesn't expect is that once he arrives in Love it feels like he has stepped into a  parallel universe.
Now Sierra has to find a way to convince this city-Slick that Olivia is truly in love and that her uncle loves her too, before he ruins the life of the only man that has been worth something in her own life.
The chemistry between Sierra and Marc is undeniable, but how long can they resist the attraction before they burst into flames. With the help of a brash Aussie waitress, a British butler and a mother who can't help but meddle maybe these two people who don't believe in love may just find themselves acting on their attraction. But his life-long goal of taking over his fathers prized position in business might just drive away the woman that is coming to mean a lot more to him.
Rating:
Book Info: Publisher: Nicola Marsh (September 11, 2012)
All's fair in love…and matchmaking!
Sierra Kent doesn't do love.
While she embraces the quaintness of her home town Love and delights in matchmaking
her clients through her Internet dating agency Love Byte, she doesn't trust her
intuition when it comes to the one emotion that has repeatedly let her down.
City-slick Marc Fairley, CEO of LA's premier acquisition company,
doesn't have time for Love.
From the minute he enters the kitschy town he can't wait to hotfoot back
to LA with his deranged mother in tow. Instead, he gets roped into the town's
Love Fest hoopla, investigates the shady farmer his mom is engaged to, berates
his butler for a mad crush on a brash Aussie waitress, and finds himself
falling for the brazen red-head who continually baits him.
His life couldn't get any crazier. Until he discovers in exacting
revenge on his father and achieving his lifelong goals, he may lose the one
thing he values most…
Can Sierra and Marc create enough sparks to send Love up in flames?
And prove that winning isn't everything in the love stakes, it's how you
play the game.